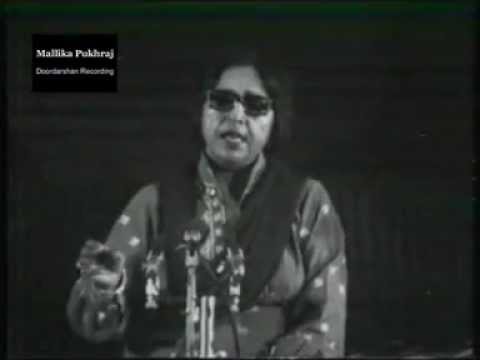 Abhi To Main Jawan Hoon lyrics, the song is sung by Malika Pukhraj from The One And Only (1990). The music of Abhi To Main Jawan Hoon Ghazal track is composed by Malika Pukhraj while the lyrics are penned by .
Abhi to main jawan hoon
Abhi to main jawan hoon
Abhi to main jawan hoon
Abhi to main jawan hoon
Hawaa bhii khushagawaar hain
Gulon pe bhii nikhaar hain
Tarannu mein hazaar hain
Bahaar purbahaar hain
Kahaan chalaa hain saaqiyaa
Idhar to lau idhar to aa
Idhar to lau idhar to aa
Idhar to lau idhar to aa
Arey yeh dekhtaa hai kyaa
Uthaa subuu subuu uthaa
Subuu uthaa piyaalaa bhar
Piyaalaa bhar ke de idhar
Chaman ki simt kar nazar
Samaa to dekh bekhabar
Woh kaali kaali badliyaan
Woh kaali kaali badliyaan
Ufaq peh ho gayi ayaan
Woh ik hajum-e-maikashaan
Hai su-e-maikadaah ravaan
Yeh kyaa ghamaan hai badghamaan
Samajh naa mujh ko naatavaan
Khayaal-e-zuhad abhi kahaan
Abhi to main jawaan hoon
Abhi to main jawaan hoon
Abhi to main jawaan hoon
Ibaadaton kaa zikr hain
Nijaat ki bhi fikr hain
Junoon hai sawaab ka
Khayaal hai azaab kaa
Magar suno to shekh ji
Ajeeb shai hain aap bhi
Bhalaa shabaab-o-aashiqui!
Alag huay bhi hain kabhi?
Hasiin jalwaah raiz hon
Adaaein fitanaah khaiz hon
Havaaein itr baiz hon
To shauq kyun nah taiz hon?
Nigaah haai fitanaah gar
Nigaah haai fitanaah gar
Koi idhar koi udhar
Koi idhar koi udhar
Ubhaarate hoon aish par
To kyaa karey koi bashar
Chalo ji qissaah mukhtasar
Tumhaaraa nuqtaa-e-nazar
Durust hai to ho magar
Abhi to main jawaan hoon
Yeh gasht kohsaar ki
Yeh sair ju-e-waar ki
Yeh bulbulon keh chahchahey
Yeh gulrukhon keh qah-qahey
Kissi sey mail ho gayaa
To ranj-o-fikr kho gayaa
Kabhi jo waqt so gayaa
Yeh hans gayaa woh ro gayaa
Yeh ishq kii kahaaniyaan
Yeh ras bhari jawaaniyaan
Udhar sey meharbaaniyaan
Idhar sey lantaraaniyaan
Yeh aasmaan yeh zamiin
Nazzaraahaa-e-dilanashii.n
Unhey hayaat aafareen
Bhalaa main chhorh doon yahin
bharatlyrics.com
Hai maut is qadar qarin
Mujhey nah aayegaa yaqin
Nahin nahin abhi nahin
Nahin-nahin abhi nahin
Na gham kashood-o-bast ka
Baland ka nah past ka
Na bood ka nah hast ka
Na vaadaa-e-alast ka
Ummid aur yaas gham
Havaas gham qayaas gham
Nazar sey aas-paas gham
Hamaa bajuz gilaas gham
Nah mai mein kuchh kami rahey
Qadaah sey hamdami rahey
Nashist yeh jami rahey
Yahi hama hami rahey
Woh raag chherh mutribaa
Tarab-fizaa alam-rubaa
Asar sadaa-e-saaz ka
Jigar mein aag de lagaa
Har ik lab pe ho sadaa
Na haath rok saaqiyaa
Pilaaye jaa pilaaye jaa
Abhi to main jawaan hoon.
Abhi To Main Jawan Hoon Lyrics PDF Download
Print PDF
PDF Download