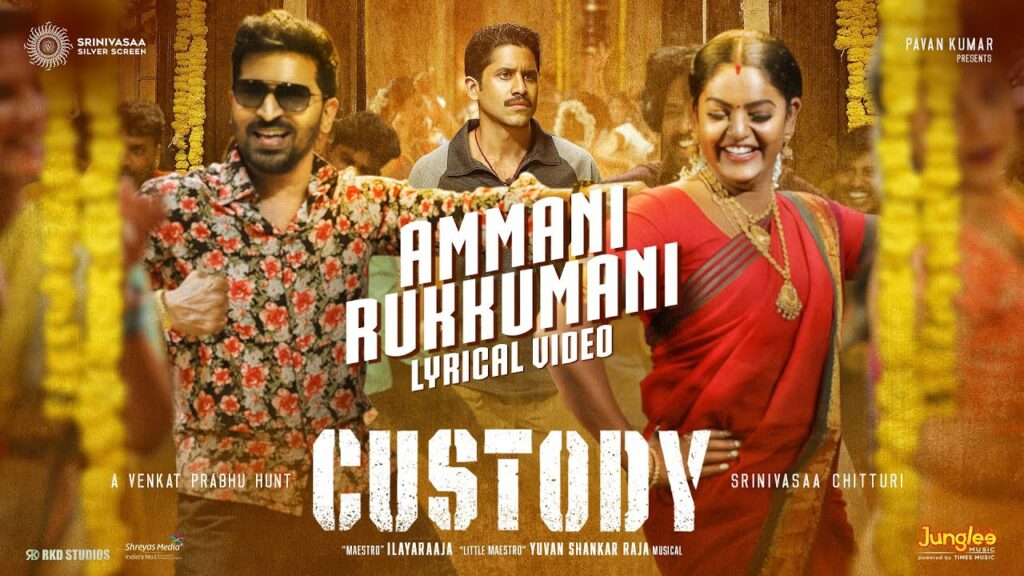 LYRICS OF AMMANI RUKKUMANI : The song "Ammani Rukkumani " is sung by Yuvan Shankar Raja from Naga Chaitanya Akkineni, Krithi Shetty and Arvind Swam starrer Tamil film Custody, directed by Venkat Prabhu. AMMANI RUKKUMANI  is a Happy and Wedding song, composed by Ilaiyaraaja, with lyrics written by Muthamil.
Ammani Rukkumani Song Lyrics
Ammani rukkumani
Achchu vella lichi kani
Brammanae senju vachcha
Sokkathangam neeyaa
Soodu yethum bothkani
Suthurenandi unna ennai
Nenjukulla ottikittu
Enna kollathey
Enna mandhiram
En meala pootiyo
Oadodi vanthu
Ninnen pinnadiye
Summa beasithaan
Soodhaddi paakura
Neethanae machamulla killadiye
Sullaan manasa ne
Surutti surutti poriye
Jodi poattu thaan
Kanavai vidhaichchu porriye
Kutti manasa nee
Irukki anachi poariye
Koolam poattu thaan
Kanavai vedhachu poariye
Hey kaiya kaala neeti
Ada emmealathaan neeyum
Azhagellam alli kili aattam
Aadi sellaathe
Aa kanna moodinaalum
Kanavellam unna kaattum
Pasi aaraamalae
Thaandi enna poga sollaathae
Sellaathe un kitta
Mathavanga pasange
Komaali aanangale
Akkam paakam thaan
bharatlyrics.com
Adi thangameni
Thottu thooki poven
Saththam podaama urukkaporen
Sullaan manasa ne
Surutti surutti poriye
Jodi poattu thaan
Kanavai vidhaichu porriye
Kutti manasa nee irukki
Anachi poariye
Koolam poottu than
Kanave vethachi poariye
Surutti surutti poriye
Kanavai vidhaichu porriye
Irukki anachi poariyea
Kanavai vedhachu poariyea.
Ammani Rukkumani  Lyrics PDF Download
Print PDF
PDF Download