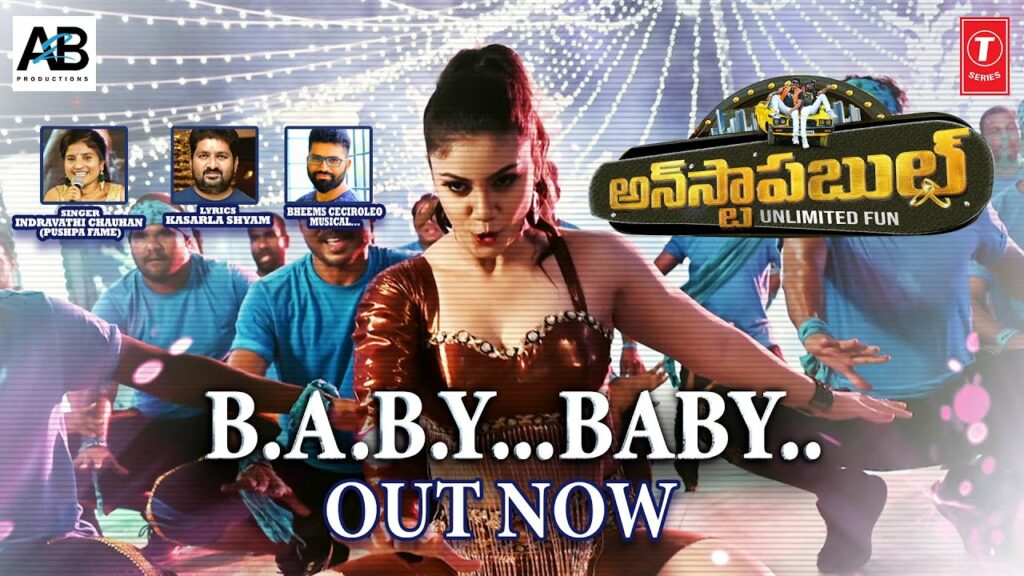 BABY SONG LYRICS: Baby is a Telugu song from the film Unstoppable Unlimited Fun starring Vj Sunny, Sapthagiri, Nakshatra, Aqsa Khan, Bittiri Satti and , directed by Diamond Rathna Babu. "BABY" song was composed by Bheems Ceciroleo and sung by Indravathi Chauhan, with lyrics written by Kasarla Shyam.
Baby Song Lyrics
B.a.b.y baby baby
H.o.b.b.y hobby hobby
Baby hobby baby hobby
Habba baby habba baby
bharatlyrics.com
Naa olle cinema haalu
Show lanni house-u fullu
Moodunte nalge showlu
Heatekke bottle reelu
Dummu levadhaa
Seene hittu istunte
Dimma thiragadha
Na bommey chusthunte
Seat-u chusuko
Seeti yesuko
Lightu banjesi
Kummesu kundhame
Hey linga linga lingare
Hey singaranga thayare
Hey linga linga lingare
Nuvvu lungi dance karore
Morning show lo
Muddette flow lo
Mathhu ekkistaanu
Baby baby
Matnylo haggulu
Tholaginche siggulu
Pichhe kisthanu
Baby baby
First showlo nalipesi
Second show lo kudhipesi
Chamatalu pattistaaru
Chalo chalo chalo chalo
Vedi picture vestha 3d
Chesthaa chudu merupu dhaadi
Dhody sokulanni dhody
Nannu vaadi dhinchhukora vedi
Nela ticket istha
Mick test chestha
Item song esko
Baby baby
Bench meedha vanchi
Naralanni tenchi
Duette istharo
Baby baby
Balcony lo etthula
Nadumuloni malupulu
Chuskoraa kolthalu
Egadhiga egadhiga
Baby what mera hobby
Baby naa kuthe dolby
Baby nenu imax barbie
Baby main hu sexy jilebi.
Baby Lyrics PDF Download
Print PDF
PDF Download