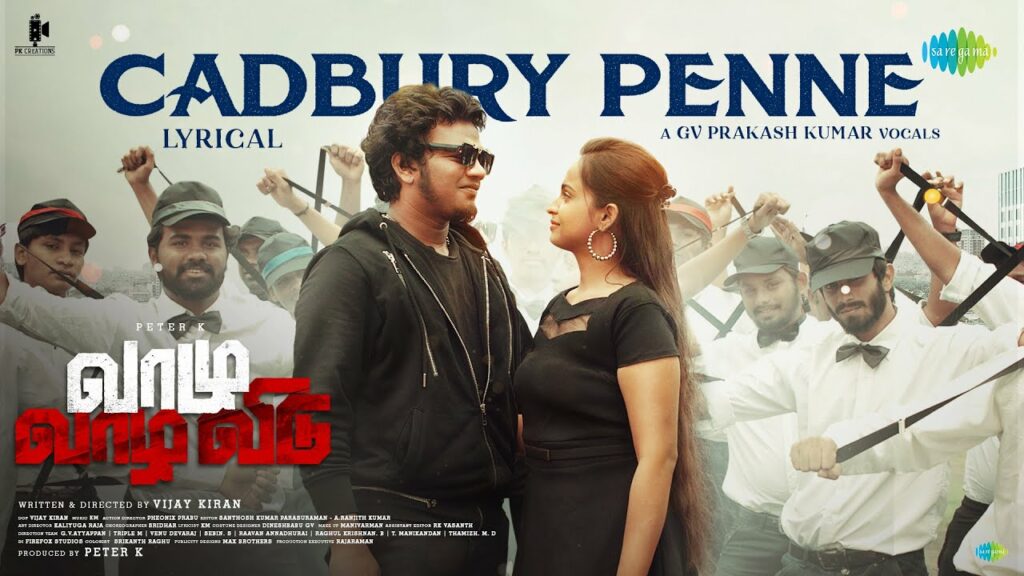 CADBURY PENNE SONG LYRICS: The song is sung by G. V. Prakash Kumar from the Tamil film Vaazhu Vaazha Vidu, directed by Vijay Kiran. The film stars Peter K and Reshma Prasad in the lead role. The music of "Cadbury Penne" song is composed by Karthik Mano, while the lyrics are penned by Karthik Mano.
Cadbury Penne Song Lyrics
Penne radhiye
Cadbury penne
Mayakkura kanne
Unna konjam paartha
Vedikira vettaa
Strawberry radhiye
Mayakkura madhiye
En usure unakulla thaan
Adi unnoda dhaan nadakayila
Suththi symphony dhaan ketkudhadi
Unna vechcha kanna paarkayila
Manasulla idi idikithadi
Manja kari maaya tina
Morachikittu unna thinnu
Enakulla neeyum irundhale
Sorgam enum bar kulla
Kudichiputtu kedakayila
Edhayo solli enna keduthaale
bharatlyrics.com
Idhu kannoram
Katti vecha kanaangu
Indha pallakkil
Sunduthadi thaenangu
Maarango machcha
Vizhi ey raambu
En manasula nee vandhaa
Adingo loksa raa pangu
Ennaa guni chi
Parakkum lake co ree saalu
Richhaa binaami
Panam illa row we gang'gu
Ennaa soneerae
Ariyillae ariyillae
Ghatam illaaa guru
Chandanamittum paada varaliye
Adiye maanguru mannar illa nagavalliye
Adiye naaguru nangoorama abhi halliye
Mazhayum sindha kaatin keelae
Karisa kaatu kuyila nee
Unna vitta yaarum illa
Kanava kanavoram kattikiren
Indha kaadhal
Adi thenaattam
Indha poo pola
Adi un vaasam
Gaana kuruvi paadum
Kadhal dhisaiya thedum
Un kanavum en nijamum
Ondraai serumaa
Ada kalyana thedhi
Onnu vandhachu di
Unna kattikittu nanum
Konjam sella thaanadi
Unna paarkaama
Nilavellam thoongadhadi
Undhan paarvaiyile
Naan konjam
Takkum chakkum tookku chakkum
Takkum chakkum thaararire
Takkum tookku chakkum
Takkum chakkum thaare.
Cadbury Penne Lyrics PDF Download
Print PDF
PDF Download