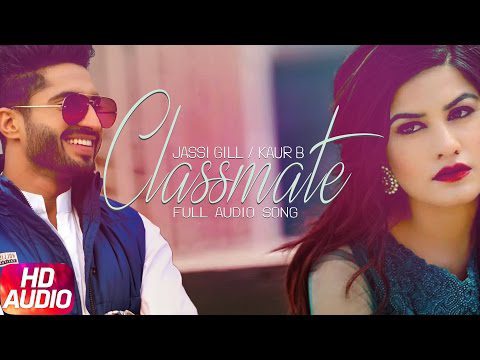 Classmate (Title) lyrics, the song is sung by Baljinder Kaur (Kaur B), Jasdeep Singh Gill (Jassi Gill) from Classmate (2017). The music of Classmate (Title) Folk track is composed by Desi Crew while the lyrics are penned by Bunty Bains.
Mundeya de vich kal nakhro,
Shirh payi c teri gal nakhro.
Jad chare jawani ve
Pher khich dila nu paindi,
Ni kad ho mutiyaar gayi
Jado c main naanke rehndi.
Kudiyan de vich kal mitra
Shirh payi c teri gal mitra.
Much futt jehe gabru te
Akh har alarh di paindi,
O kad gabru ve kad gabru
Kad gabru ho geya ve
Jado c tu naanke rehndi…
Aathvi tak ta atth jamaata
Naal rahi tu parhdi ni,
O chete ae mainu bina gal ton
Rehndi c tu larhdi ni..
Main hostal chadd di na
Je maami na gal paindi,
Ni kad ho mutiyaar gayi
Jado c main naanke rehndi
Pen reynold da jaandi nu
Ditta c tu jihda ve,
Hun tak rakheya sambh sambh k
Gift sohneya tera ve…
Main khada reh gya c
Jra mud k dekh ta laindi,
O kad gabru ve kad gabru
Kad gabru ho geya ve
Jado c tu naanke rehndi…
bharatlyrics.com
Sukke patteya di agg wangu
Husan tere te charheya ni,
Joban tera dudh de wangu
Ubal ubal k kadheya ni…
Tahio sambh sambh rakhdi
Ve dil aapna uthdi behndi,
Ni kad ho mutiyaar gayi
Jado c main naanke rehndi…
Tu vi kihda ghat sunakha
Kudiyan eh gal jaan diya,
Tere utte maran rakaana
Jehriya mere haan diya…
Tu bains bains keh k
Pange bunty de naal laindi,
O kad gabru ve kad gabru
Kad gabru ho geya ve
Jado c tu naanke rehndi…
Classmate (Title) Lyrics PDF Download
Print PDF
PDF Download