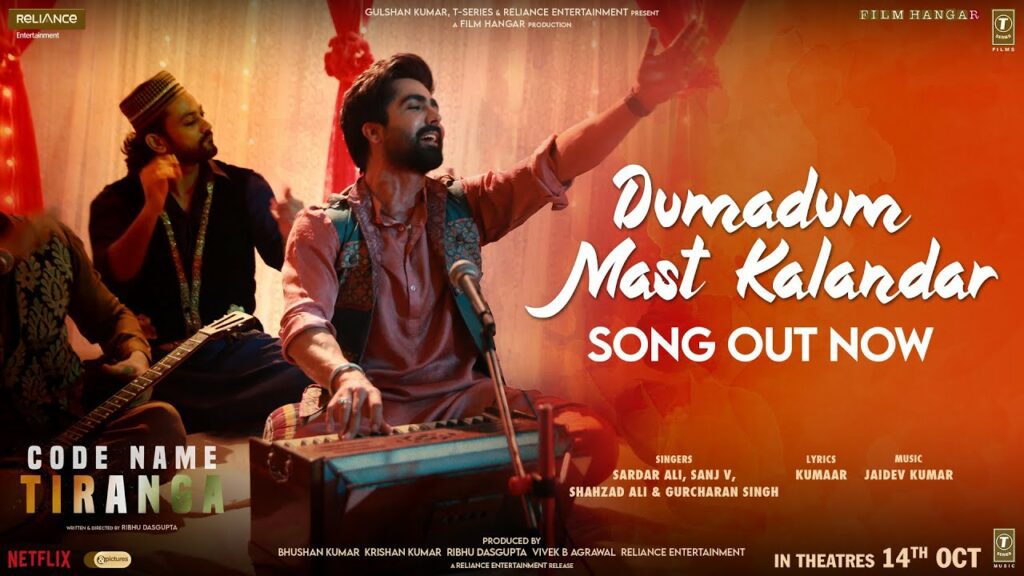 DUMADUM MAST KALANDAR LYRICS IN HINDI: 'दमादम मस्त कलंदर' The song is sung by Sardar Ali, Sanj V, Shahzad Ali and Gurcharan Singh from the soundtrack album for the film Code Name: Tiranga, directed by Ribhu Dasgupta, starring Parineeti Chopra, Harrdy Sandhu and Sharad Kelkar. "DUMADUM MAST KALANDAR" is a Qawwali song, composed by Jaidev Kumar, with lyrics written by Rakesh Kumar (Kumaar).
Dumadum Mast Kalandar Song Lyrics
Tera rutba shaahi shaahi
Tu likhe taqdeere tere ankh syahi
Tera rutba shaahi shaahi
Tu hi zarra tu hi ilahi
Chaand aur sooraj taare
Kehte hai yehi saare
Baaki sab mitti saare
Tu hi sikandar
Dumadum dumadum
Dumadum mast kalandar
Ali da pehla number
Dumadum mast kalandar
Ali da pehla number
Ho lal meri lal meri
Rang mein sab tere raazi
Bann baithe tere namaazi
Lehero mein doobe teri
Tu hain samandar
Teri mauj mein joh hai jhuma
Woh jannat ki galiyan ghuma
Saawar gayi kismaat ki lakeerein
Jab tune mera maatha chuma.
दमादम मस्त कलंदर Lyrics in Hindi
तेरा रुतबा शाही शाही
तू लिखे तक़दीरें तेरे आंख स्याही
तेरा रुतबा शाही शाही
तू ही ज़र्रा तू ही इलाही
चाँद और सूरज तारे
कहते है एहि सारे
बाकी सब मिट्टी सारे
तू ही सिकंदर
दमादम दमादम
दमादम मस्त कलंदर
अली दा पहला नंबर
दमादम मस्त कलंदर
अली दा पहला नंबर
हो लाल मेरी लाल मेरी
रंग में तेरे सब राज़ी
बन बैठे तेरे नमाज़ी
लेहेरो में डूबे तेरी
तू हैं समंदर
bharatlyrics.com
तेरी मौज में जो है झूमा
वो जन्नत की गलियां घुमा
सवर गयी किस्मत की लकीरें
जब तूने मेरा माथा चूमा.
Dumadum Mast Kalandar Lyrics PDF Download
Print PDF
PDF Download