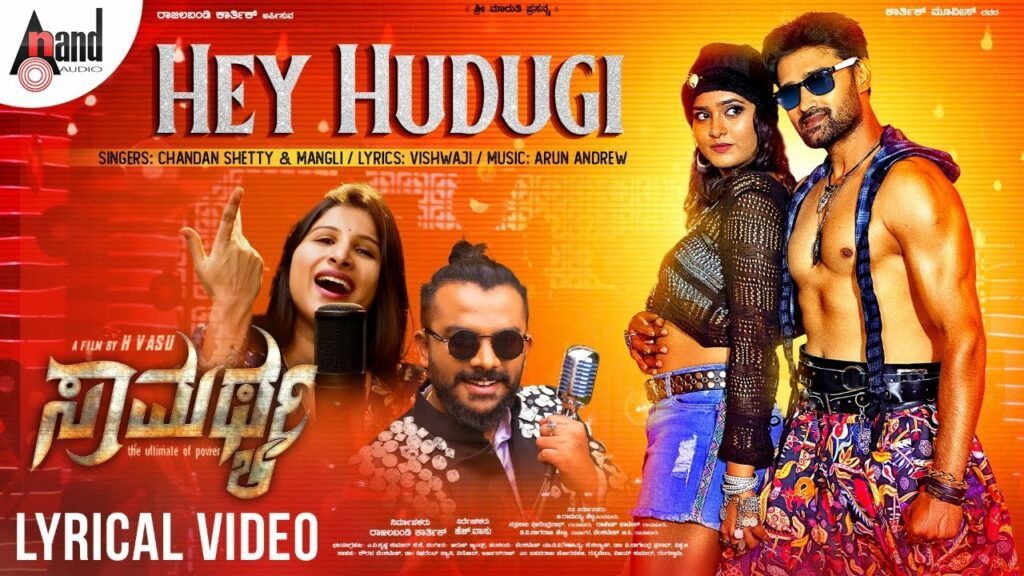 Hey Hudugi lyrics, the song is sung by Chandan Shetty, Mangli from Samarthya. Hey Hudugi Dance, Hip Hop soundtrack was composed by Arun Andrew with lyrics written by Viswa.
Hey Hudugi Song Lyrics
Hey… Hudugi ninna kannu
Tumba chenda
Bele kattalu sadyavilla
Anda chanda
Helu hogali saaladu
Ninna maatininda
Beeke beku life alli
Ninne inn mundda
Bangarada jinke naanu
Sum sumne balege biltinenu
Kanmunde kaadu jeenu
Kallu hodudre sumne irthi nenu
Thago thago thago tension
Namm lovving illiede solution
Maadu maadu maadu mention
Ninna heartinalli nande pollution
Na na na na
Nanna kanasinallu
Manas inallu neene
Na na na
Nanna heartinallu
Saiti nalluneenu neene
Na na na
Nanna edeyabaagila
Bellu hottiruve
Aishwarya aliya
Nella swalpa ninu saigirsi
Aa deepika nanna munde
Nillodu thumba fantasy
Dimpalle simpallagi
Silentaagi tale baagide
Beautygu nannade illi
Permission bekagide
bharatlyrics.com
Kelu permission restriction nangantuilla
Nannlife alli fake anno simbleilla
Love annodu thirty fourty saitaalla
Nann heart alli ninn bitre place yarguilla
Idko let me idko
Love annodu figure alla
Open maadu ninna feelings nella
Matte teeneju barode illa
Kya allah mashallah
Facebook annodu gotteilla
Twitter annu use maadodeilla
Watsapp nallu dating illa
Kya allah mashallah
Bidu bidu chinthe yana
Nanna heatru beatu ninaade inna
Bangarada jinke yanna
Life longu maintain madu chinna.
Hey Hudugi Lyrics PDF Download
Print PDF
PDF Download