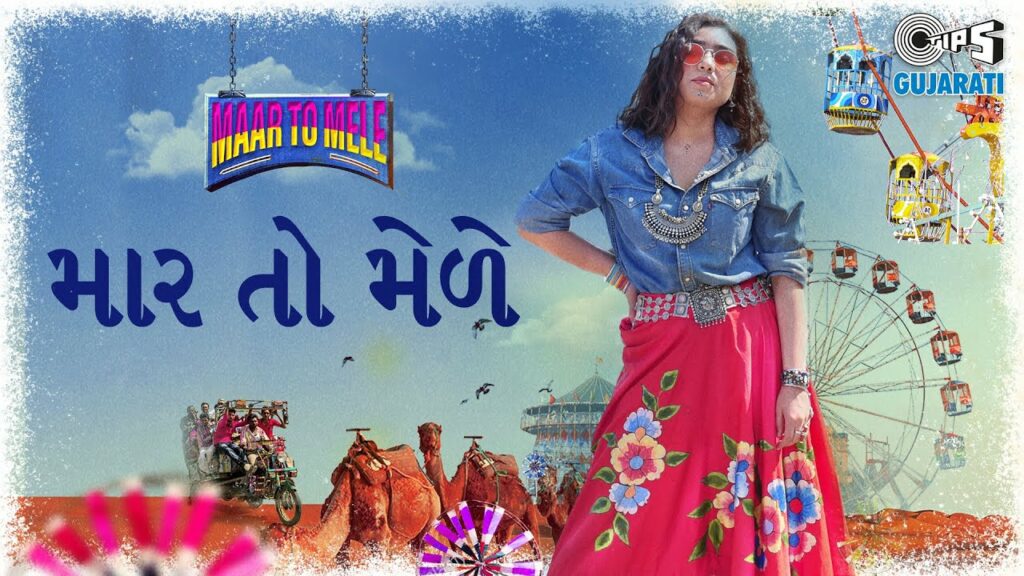 MAAR TO MELE LYRICS IN GUJARATI: માર તો મેળે, This Gujarati Folk song is sung by Ishani Dave & released by Tips Gujarati. "MAAR TO MELE" song was composed by White Noise Studios, with lyrics written by Traditional.
Maar To Mele Song Lyrics
he….
Halak dolak haida jo ne.. Mandu damadol..
Zaalo ee koi aaj ke ghelo jeev chadyo chakdol ..
maar to Mele… maar to Mele…
maar to mele Jaavu se ne rajudi no nehdo lagyo (4)
Nehdo lagyo Nehdo lagyo
Rajudi no nehdo lagyo
Nehdo Nehdo Nehdo lagyo
Rajudi no nehdo lagyo
maar to mele… Rajudi no nehdo lagyo
He oli Rupli mele haal atane javu se
He oli Rupli mele haal atane javu se
He tari Lombi Lombi
He tari Lombi Lombi
He tari Lombi Lombi latiyu na vaal ke nahitar modu thashe
He tari Lombi Lombi latiyu na vaal ke nahitar modu thashe
bharatlyrics.com
Hoon Hoon peri javu se ne rajudi no nehdo lagyo
Haan Hoon Hoon peri javu se ne rajudi no nehdo lagyo
Nathdi peri javu se ne rajudi no nehdo lagyo
Nehdo lagyo Nehdo lagyo rajudi no nehdo lagyo
Nehdo Nehdo Nehdo lagyo
Rajudi no nehdo lagyo
maar to mele… Rajudi no nehdo lagyo
Rajudi no nehdo lagyo…
Rajudi no nehdo lagyo…
ભારતલીરીક્સ.કોમ
માર તો મેળે Lyrics in Gujarati
હે…..
હલક ડોલક હૈડા જો ને…મનડું ડામડોળ
ઝાલો એ કોઈ આજ કે…ઘેલો જીવ ચડયો ચકડોળ
માર તો મેળે…માર તો મેળે
માર તો મેળે જાવું સે ને રાજુડી નો નેહડો લાગ્યો (4)
નેહડો લાગ્યો નેહડો લાગ્યો
રાજુડી નો નેહડો લાગ્યો
નેહડો નેહડો નેહડો લાગ્યો
રાજુડી નો નેહડો લાગ્યો
માર તો મેળે…રાજુડી નો નેહડો લાગ્યો
હે ઓલી રુપલી મેળે હાલ અટાણે જાવું સે
હે ઓલી રુપલી મેળે હાલ અટાણે જાવું સે
હે તારી લોંબી લોબી
હે તારી લોબી લોબી
હે તારી લોબી લોબી લટિયું ના વાળ કે નહીંતર મોડું થાશે
હે તારી લોબી લોબી લટિયું ના વાળ કે નહીંતર મોડું થાશે
હૂં હૂં પેરી જાવું સે ને રાજુડી નો નેહડો લાગ્યો
હા હૂં પેરી જાવું સે ને રાજુડી નો નેહડો લાગ્યો
નથણી પેરી જાવું સે ને રાજુડી નો નેહડો લાગ્યો
નેહડો લાગ્યો નેહડો લાગ્યો રાજુડી નો નેહડો લાગ્યો
નેહડો નેહડો નેહડો લાગ્યો
રાજુડી નો નેહડો લાગ્યો
માર તો મેળે….રાજુડી નો નેહડો લાગ્યો
રાજુડી નો નેહડો લાગ્યો
રાજુડી નો નેહડો લાગ્યો
Maar To Mele Lyrics PDF Download
Print PDF
PDF Download