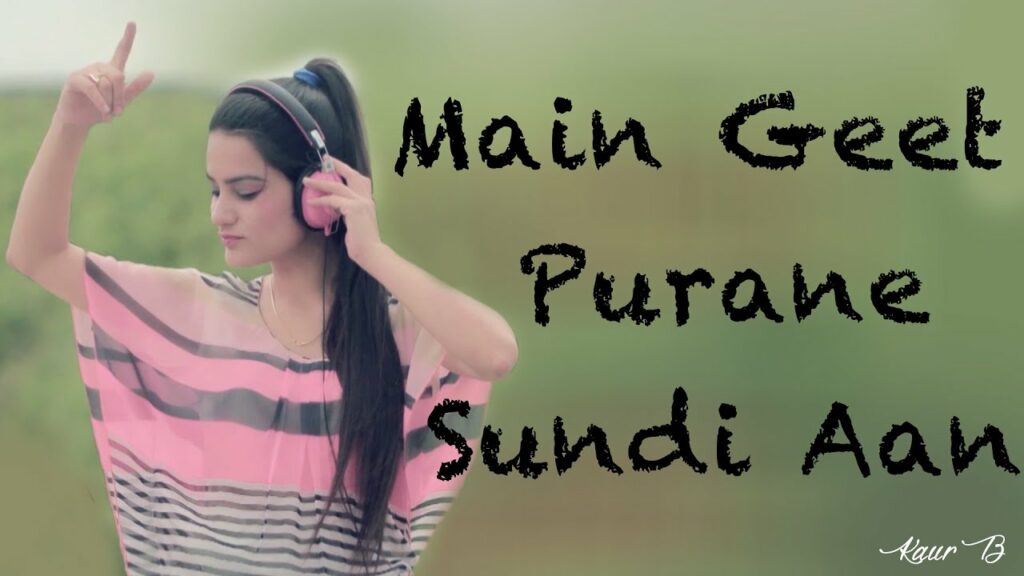 Main Geet Purane Sundi Aan (Title) lyrics, the song is sung by Baljinder Kaur (Kaur B) from Main Geet Purane Sundi Aan (2014). The music of Main Geet Purane Sundi Aan (Title) Folk track is composed by Desi Crew while the lyrics are penned by Punjabi Virus, Bunty Bains.
Jadon naal tuition parhda si
Mere utte odon da marda si
Mere magar gediyan launda si
Pataa labh leya mere ghar da si
Hun jmaa sirey da velly hai
Sara pind eh gall jaannda
Main geet puraane sunndi haan
Jatt fan hai babbu maan da
Dekhan lag gaya film punjabi
Engine khet chhad chalda ni
Kehnda tauhr badi sardaaran di
Pagg bannhan lag gaya kal da ni
Jithe marzi panga pai jawe
Dekhi kharku yaar tera maanjda
Main geet puraane sunndi aan
Jatt fan diljit dosanjh da
bharatlyrics.com
Kehnda tu hain meri kaur
Te main haan tera mr. Singh kude
Gall vakhri hundi rutbe di
Naale king taan hunda king kude
Hun baneya phirda yenki,
Ni bannda si teacher science da
Main geet purane sundi haan,
Jatt fan hai jazzy bains da
Kade aakhe phullan wargi ain
Kade gall kare phulkari di
Kade torey gall hathyaaran di
Kade desi jatt di yaari di
Haye james bond punjabi ai
Actor vi bada kamaal da
Main geet puraane sunndi aa
Jatt fan gippy grewal da
Kehnda duniya rakhe yaad menu
Edda bains bains karwauni aa
Jo dushman samjhi bethe ne
Thaan ohna de dilan vich pauni aa
Aje teer chalaune baaki ne
Dhang sikheya ai msaa kamaan da
Main gurdas maan ji nu sunndi aa
Jatt fan khant wale mann da
Main manak saab nu sunndi aa
Jatt fan khant wale maan da.
Main Geet Purane Sundi Aan (Title) Lyrics PDF Download
Print PDF
PDF Download