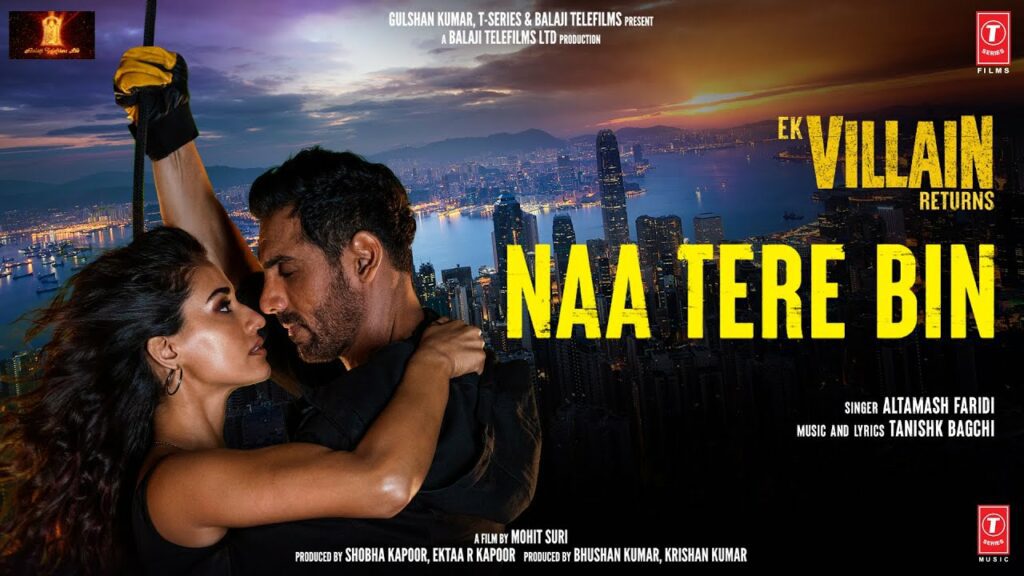 LYRICS OF NAA TERE BIN IN HINDI: 'ना तेरे बिन' The song is sung by Altamash Faridi from Hindi film Ek Villain Returns, directed by Mohit Suri. The film stars John Abraham, Arjun Kapoor, Disha Patani and Tara Sutaria in lead role. "NAA TERE BIN" is a Love song, composed by Tanishk Bagchi, with lyrics written by Tanishk Bagchi.
Naa Tere Bin Song Lyrics
Tera asar o bekhabar
Main kho gaya jaane kidhar
Tu mere paas hai abhi
To lamhe khass hai abhi
Na jaane kab hua yakin
Ke kuch bhi tere bin nahi
Na tere bin rehna ji
Na aur kuch kehna ji
Ke jagte jagte
Main umar bita loon
Kareeb aa tu iss tarah
Saanse mile do jiss tarah
Main tere sang ye safar gujarun
Mile ho tum mujhe abhi
To ho gaya mujhe yakin
Kitna main tanha
Bheed mein raha hun
Main zidd mein hi rehna ji
Judai nahi sehna ji
Ke haste haste
Main gum tera rodun
Na ek pal chaina ji
Hai sath mein rehna ji
Ke jagte jagte
Main umar bita loon.
ना तेरे बिन Lyrics in Hindi
तेरा असर ओ बेखबर
मैं खो गया जाने किधर
तू मेरे पास है अभी
तो लम्हे खास है अभी
ना जाने कब हुआ यकीन
के कुछ भी तेरे बिन नहीं
ना तेरे बिन रहना जी
ना और कुछ कहना जी
के जगते जगते
मैं उमर बिता लूँ
करीब आ तू इस तरह
साँसे मिले दो जिस तरह
मैं तेरे संग ये सफर गुजारूं
मिले हो तुम मुझे अभी
तो हो गया मुझे यकीन
कितना मैं तन्हा
भीड़ में रहा हूँ
मैं ज़िद्द में ही रहना जी
जुदाई नहीं सेहना जी
के हस्ते हस्ते
मैं गम तेरा रोदूं
bharatlyrics.com
ना एक पल चैना जी
है साथ में रहना जी
के जगते जगते
मैं उमर बिता लूँ.
Naa Tere Bin Lyrics PDF Download
Print PDF
PDF Download