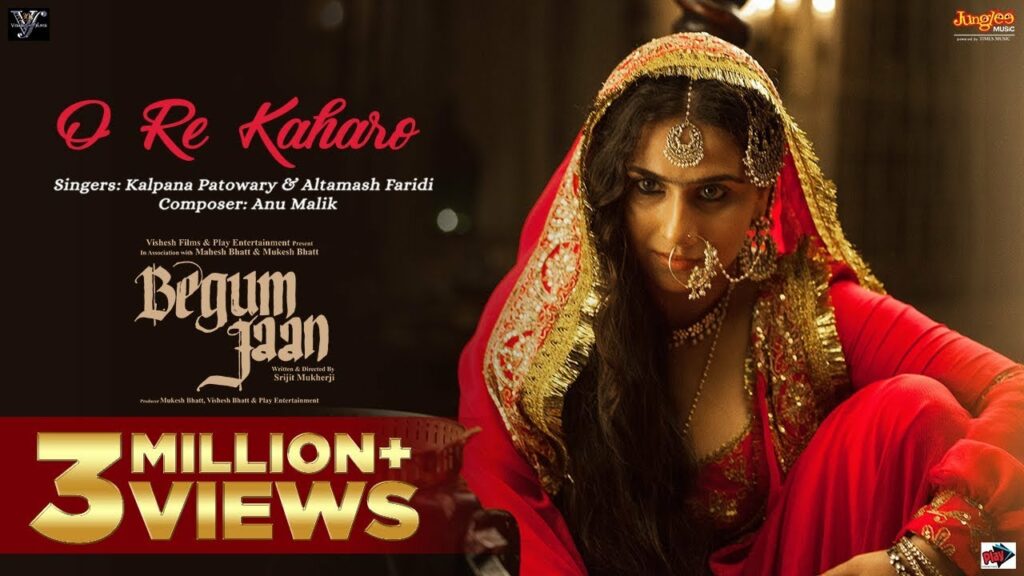 O Re Kaharo lyrics, the song is sung by Altamash Faridi, Kalpana Patowary from Begum Jaan (2017). The music of O Re Kaharo Sad track is composed by Anu Malik while the lyrics are penned by Kausar Munir.
O re kaharo doli utaron,
Pal bhar ko theharo toh zara,
Dil se lagake bas ik dafa ve,
Dene ko gudiyon ko dua..
Teri bindiyan nikharke, chudiyan bikharke,
Chunari mein chehake,
Tera kazara ho kara,
Gazara ho pyara, angana tera mehake,
bharatlyrics.com
Tera jiyara re jhoome, piyara jo chumhein,
Tann mann yeh dumke,
Tohe anch na, aaye laaz na jaye,
Ang, ang ye chamke..
Takiyein pe tere tare bichayein,
Chand ye tere liye, thumariyan gayein,
Kheedki pe teri raat ki rani,
Murkhiyan leke lori sunaye..
Soja, soja gudiya soja ankhyon se tu ojhal ho jaa,
Ori subhah, ab na jaga,
Pal bhar ko theharo toh zaa-a-ra,
Neend ye aadhi, sapna ye aadha,
Poora toh hone do zaraa..
Teri bindiyan nikharke chudiyan bikharke,
Chunari mein chehake,
Tera kazara ho kara,
Gajara ho pyara angana tera mehake,
Tera jiyara re jhoome, piyara jo chumhein,
Tann mann ye dumke,
Tohe anch na aaye laaz na jaye,
Ang, ang ye chamke…
Teri bindiyan nikharke hmm,
Tera kazara ho kara,
Gajara ho pyara…
O Re Kaharo Lyrics PDF Download
Print PDF
PDF Download