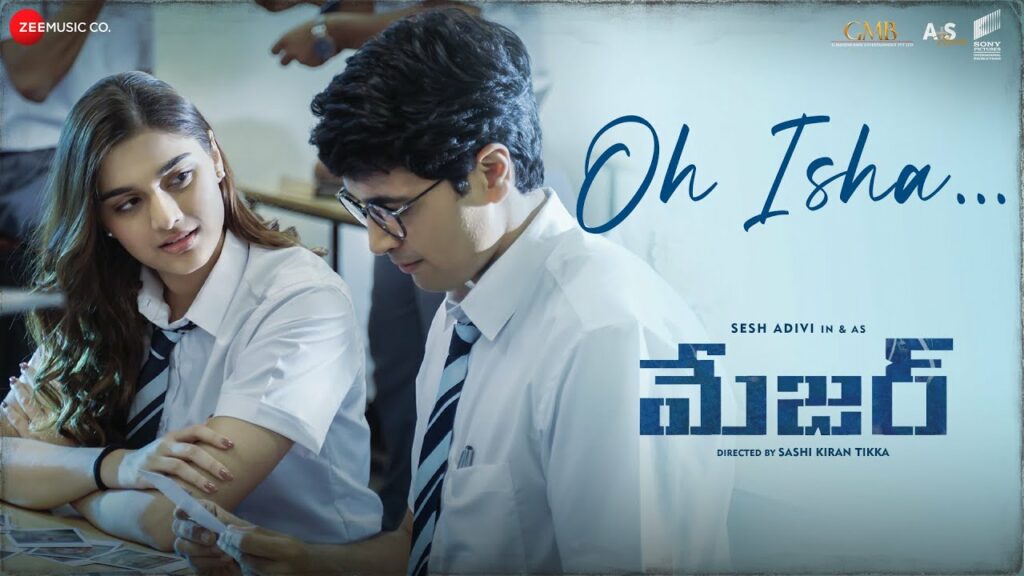 Oh Isha lyrics, ఓ ఇషా the song is sung by Armaan Malik, Chinmayi Sripada from Major. Oh Isha Happy soundtrack was composed by Sricharan Pakala with lyrics written by Rajiv Bharadwaj.
Oh Isha Song Lyrics
Haayi haayi haayi
Ee maaya emitoyi
Gunde aagi aagi
Eguruthunnadi
Chikkulanni koorchi
Oo lekkanevo nerchi
Ankelaata ledo
Aaduthunnadi
Oh ontarantu
Oh nestamante
Oh kotha lokam
Cheraalila
Oh navvu visirina
Sankellu dariki cheravaa
Nannila…
Oh isha…
Oh isha…
Edurane laakkoni
Kalalo dakkoni
Kosari kosari
Kougilinthalivvamaakala
Eduruga nilabadi
Manasulo alajadi
Penchi penchi premalona
Munchite ela
Oh kotha daarilo
Oh prema page lo
Oh kadhani raadham
Raa ila
Oh sankhya visirina
Sankellu terachi cherava
Nannilaa…
Oh isha
Oh isha
Oh isha
Oh isha.
ఓ ఇషా Lyrics in Telugu
హాయి హాయి హాయి
ఈ మాయ ఏమిటోయి
గుండె ఆగి ఆగి
ఎగురుతున్నదీ
చిక్కులన్ని కూర్చి
ఓ లెక్కలేవో నేర్చి
అంకెలాటలేదో
ఆడుతున్నదీ
ఓ ఒంటరంటు
ఓ నేస్తమంటే
ఓ కొత్తలోకం
చేరాలిలా
ఓ సంఖ్య విసిరినా
సంకెళ్లు తరచి చేరవా
నన్నిలా
ఓ ఇషా…
ఓ ఇషా…
నిదురనే లాక్కొని
కలలో దాక్కొని
కొసరి కొసరి
కౌగిలింతలివ్వమాకలా
ఎదురుగా నిలబడి
మనసులో అలజడి
పెంచి పెంచి ప్రేమలోన
ముంచితే ఎలా
bharatlyrics.com
ఓ కొత్త దారిలో
ఓ ప్రేమ పేజిలో
ఓ కధని రాద్దాం
రా ఇలా
ఓ సంఖ్య విసిరినా
సంకెళ్లు తరచి చేరవా
నన్నిలా
ఓ ఇషా
ఓ ఇషా
ఓ ఇషా
ఓ ఇషా.
Oh Isha Lyrics PDF Download
Print PDF
PDF Download