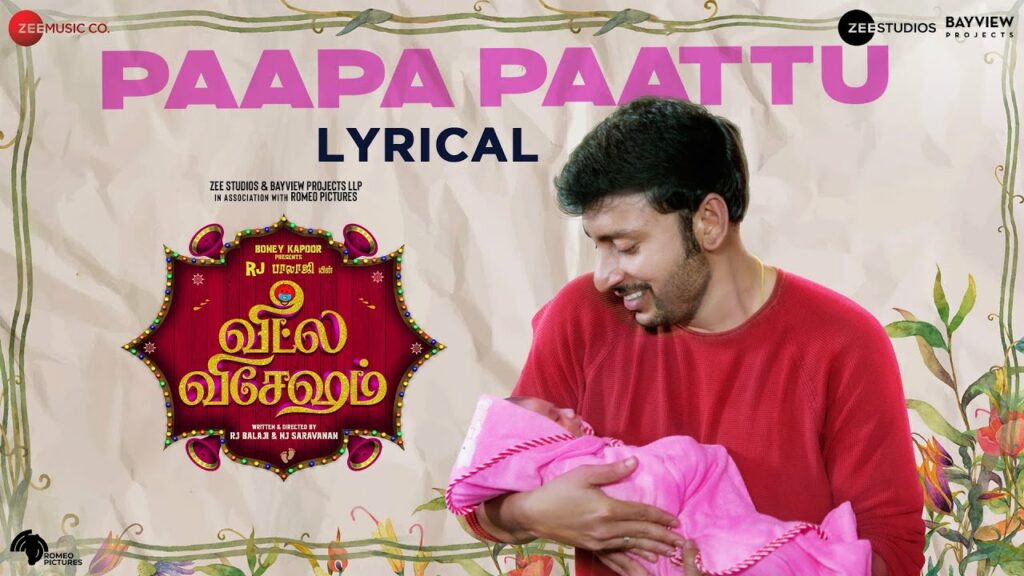 PAAPA PAATTU SONG LYRICS: Paapa Paattu is a Tamil song from the film Veetla Vishesham starring RJ Balaji, Sathyaraj, Urvashi, Aparna Balamurali and KPAC Lalitha, directed by RJ Balaji and Nj Saravanan. "PAAPA PAATTU" song was composed by Girishh G and sung by Sid Sriram, with lyrics written by Pa. Vijay.
Paapa Paattu Song Lyrics
Vaa vennilave vaadatha poove
En vaazhvil meendum enai eendra thaaye
Kannodu imaiyai sugamana sumaiyai
Iru kaiyil yendhi thaalattuvene
bharatlyrics.com
Kaatrodu thalaikodhi nadhiyodu thavizhnthu
Uyirodu uyiraga uravaadum azhage
Paniyodu vilayadi malar oonjaladi
Tharai vandhu tamizh pesum irukkaal vennilave
Siragaga unnai naan yendhi selven
Sinungamal unnai naan paarthu kolven
Oru kodi inbangal unai paartha nodiyil
Naan vaazhum naal mattum nee enthan madiyil
Unai eentra pozhuthingu
Kadavul thaan mugam paartha pozhuthu
Un paatham thozhuthu
Aarariraro aarariraro
Aarariraro aarariro
Aarariraro aarariro
Ellorkkum inge mugamoodi vaazhkai
Kanne un mugam pola nijam yedhu
Ulagathil oosai ooyadhu kanne
En thozhil thalai saaindhu nee thoongu
Innum innum nedumthooram sentral
Anbennum oor seralam
Ponnum porulum thedatha uravai
Avvooril nee kaanalam
Un perai sonnal ellorkum thannal
Idhayathin kadhavondru
Anbodu thirakattum azhage
Amudhe en uyire
Aarariraro aarariraro
Aarariraro aarariro
Aarariraro aarariro
Aarariro aarariro.
Paapa Paattu Lyrics PDF Download
Print PDF
PDF Download