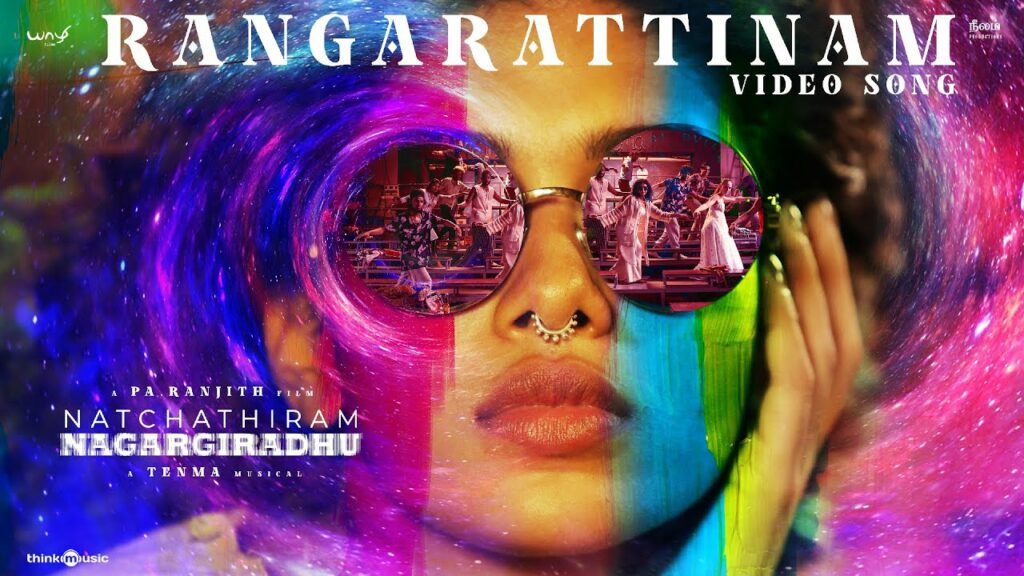 RANGARATTINAM SONG LYRICS: The song is sung by Krsna and Gana Muthu from the Tamil film Natchathiram Nagargiradhu, directed by Pa. Ranjith. The film stars Kalaiyarasan, Kalidas Jayaram, Dushara Vijayan and Hari Krishnan in the lead role. The music of "Rangarattinam" song is composed by Tenma, while the lyrics are penned by Arivu.
Rangarattinam Song Lyrics
Aagasam baagaakkum manna kiliye
Yegantha yevolo vanna kiliye
Meenavin meenayin vandha kiliye
Mainakkal kai korkum manja kiliye
Theechethum theerara neela vaaname
Pakkathil vaaraaya pancha bhoothame
Vaa machan vaazha thaan indha vaazhkaiye
Sogamthil azha thaan neram illaye
Anubavi anubavi anubavi
Kaathodu siragadi siragadi siragadi
Koothadi marupadi marupadi marupadi
Suththi vandhu mela keezha kaatturangu
Raattinam thaan vaazhkai inbam
Baramadi baramadi baramadi
Bara bara bara
Niramadi niramadi niramadi niramathi
Niliradi niliradi niliradi ulagamingu
Samamadi samamadi samamadi yaavume
Oh oh oh oh shining like a star
Rappapa pabapa like a moving star
We are the brightest team shalalala shalalala
No matter where you from or who you are
1 2 3 4
Thattumma sola thattu thakkalikki mukka dhuddu
Kottumma naalu kottu pattalathu machanukku
Puttuma seeni puttu chikki mukki chippayiki
Gethimma kannam rendum katti putta kannapoochire
Nallima nalli nalli
Killi kottu koththamalli
Pallimma palli palli
Pallam vettum pallangoli
Venilla velli velli
Koora kotta gundumalli
Oottam ninnu putta
Dhandanakka dhanukku thaandi
bharatlyrics.com
We are the greatest
We are the brightest
We are the wisest
We are the future
We are makers
We are the shakers
We are the fighters
We are the righteous.
Rangarattinam Lyrics PDF Download
Print PDF
PDF Download