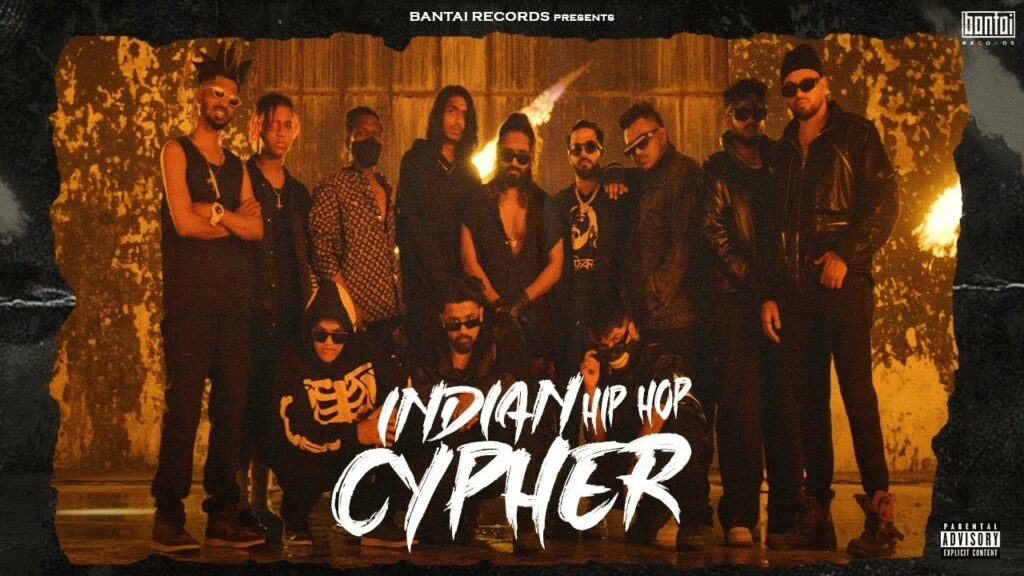 THE INDIAN HIP HOP CYPHER LYRICS: The Indian Hip Hop Cypher is a Hip Hop song, voiced by Emiway Bantai, Memax, Shez, Young Galib, Flowbo, Hitzone, Hellac, Jaxk and Minta from Emiway Bantai. The song is composed by Refix, Memax and Tony James, with lyrics written by Emiway Bantai, Memax, Shez, Young Galib, Hitzone, Hellac, Jaxk, Minta and Flowbo.
The Indian Hip Hop Cypher Song Lyrics
It's me to the max
I spit only facts
Khotta karta ni flex yeah
Ayyy
Yeh hai warzone chhote
Aur mai lera headshot
And i walk with no vest
I rep br and we are on top
F*ck pr f*ck all your bots
Hum dere yaha hits ye lere hai shots
You know we the best
And banging on my chest singin'
Saare bhai yaha wavy
Got the swag got the drip got the gravy
Hum surf kare wave jaise navy
Aaja turf pe if you wanna play with us
You better watch out
Kiya yedechale to seedha knockout
Macharele ladke saare dropouts
Aaye hum maidaan me
To karte saare walk out
bharatlyrics.com
Aane de bhaa aane de bhaa
Khaate me aarela jo bhi
Tu aane de baa
Positive vibes ko aane de baa
Negative energy fatt se vata daale
Aane de bhaa
Khaate me aarela jo bhi
Tu aane de baa
Positive vibes ko aane de baa
Negative energy fatt se vata daale
Aate jab bhi apan mic pe kar daale block chhote tera naaka
10 me se poora 10 bole toh sab kuch mera proper
Shez bole toh s-h-e-z number one shotta
Khota tu bhide toh banger machine ka khayega laafa rata tatata
Manifest kara sab kuch
Mera first class dikha future
Bole shine karrele aasman mein
Roshni ko failaane
Ye cypher ni hai cypher bole sailaab hai
Haan borderline pe shooter log mere tainaat hai
Jab bhi chale mera kalam
Hai kalam me dhaar
Zindagi me tere din khaali 4
Bhalti si dhun mere sir pe sawaar
Sajde me sir jabhi hoti azaan
Kar rele punya, kar rele paap
Ek galti maaf
Do galti laafa
Seedha tere kaan karde apan laal
Pehchana kya?
Shakal se jaante naam batana kya
Akal se kaam le g@nd na marana
Katal yahan aam hai samne aana na
Pehna jo shades woh dolce & gabbana ka
Ghar se nikalte pehnu bandana
Haan khata mai rapper ye kaam rozana ka
Abhi se nahi mai pehle se
Youtube pe dekh jaake who am i
Mere style hai classy kare sab admire
Hota fail mai jab bhi kehta one more time
Mera mojo strong hai seedha do or die
Maine dekhe loss mai jaanu khudh ka price
Mera baap hai sath tu mat de advice
Mujhe boht se kaam mai ni free all time
Main hu khud ka boss i never be on time
Mai gaane banata
Akele jab jaata
Un logo me lag jaati bheed
Na zakhm dikhata insaano ko
Khoon ke pyase ye i never bleed
Main nahi god par chala tu sath mere
Toh mai karunga lead
Main khud se ni jeeta hu
Aaj tak kaise karega koi mujhse compete
Mere ko dekh banara empire
Mere se jale du hathon ko sek
Bane ye goat ye saare vampire ye peete ni blood
They suckin my d!Ck
Kare jo feel wo kare relate
Ain't no bar it's all about faith
Public ko pasand ye music ka taste
To l*de pe hate paisa aur fame
Ladke idhar jeete apni dreams bey
Izzat nahi milegi to le lenge hum cheenke
Independent label udaa diya sabki neendein
Br on the top takeover kardaale scene
It's a new day!
Kalyan se hum laate bole bangers
Bajta jabhi mai everybody put your hands up
Sadko pe khade faile bande jaise cancer
Tu gangster toh pohche mere bande leke backup
Toh back up sabhi lafange na sunege kisi ki baat ab
Tere bhashan tere pas rakh khilaf na kisi ke baat kar
Khade khade tujhe pade pade
Khali baatein na mai karu bade bade
Guneghari kafi sare bhare pade
Teri fati jabhi sabhi chade chade
Abbe chale chane tumhe pata nahi hai
Pade fan fan tumhe jagah nahi hai
Sale band padh tumhe salah di hai dekho
Fat fat maine kama liya mere dum par
Tumhe pata nahi kya mera maqsad
Mai sikhane aya yaha culture
Baj mat band padh, chal vat
100 taka atka tu bad trip me
Kaat dega verse likhu catchy mai
Ek nazar me nazar chura lenge
Kavve ko bharunga seedha atechi mai
Mujhe maalum hai tera hai gala kharab
Apne se aadi to gala kata
One to one aaja ya kala bata
Goni me daalke karu laapata
Mann kiya studio me jab chale jaaye kabhi bhi
Mere bhai log beat pe hai sarfire bhai hatele
Bhai tera bambai me hal-chal machaye
Jidhar bhi jaaye bas gardi badhaye
G@nd maarne ka meko bohat charbi chadha hai
Thole bhi naake pe bhalta machaye
Bohat harami hai humlog tu jaanle
Nasbandi karne ke baad teri haldi lagaye
Tight mera punch seedha kidney pe fight
Teri jaan mere hath me hai kidney ka rights
Bombay ke bahar mera sydney ka flight
Daala to jayega gale ke paar
Kapde se leke sab kuch oversize
Over night mere hatero ko yaha pe dafna du
Ek laafe me karta mai chaknachoor
Ye meete rapper lagte aflatoon
Tere baap log aaye
Le bottle pakad abhi baccha tu kya?
Night rider mai street fighter mai
Br cypher yeah circle tighter hai
Ladke hyper hai facts mic par hai
Patt se headshot bhai tera sniper hai
Chop kya flow, zubaan ye slicer hai
Skrrt karu street pe bina license ke
Moves mere smooth 2-3 mere shoes
First naam rakho tum mera michael hai
Balance karu life, jaise cycle hai
Hate ko karta recycle mai
Bhai tera yaha survivor hai
Bhai apne bane idol hai
Gang apni yeh vital hai
Rest in piece ho gaye rival hai
Next 4 line dunga marathi me
Dyan dena ab subtitle pe
Me marathi rapper, street var gangster
Karto je tech me bolto track var
Banvtoye history without any back up
Life he valvant (desert) me banlo cactus
Daru piun banvto gani majya ex var
Thevto me cash gadi chya dash var
Automatic drive fakt dabto me accel
Indian hip hop bagh anla world map var
Br on top, we came from the bottom
Organic reach nahi ghet apan shortcut
Do or die hech aple fakt option
One shot one kill bhau tujha shotgun
Bengalore paya kalathula
Nambo vandha yalla poduno thala kela
Kalu potu kalu mela
Off ahh poora beat mela
Feeling like am kedrick lamar
Syke poola jeffre dahmer
Yenga poona maramata
Yallar vayula nambo kadha
Yarru mari nambo ille
Ungo mari nambo panla
Woah
Aa rombo la adadha
Vaya la udharu utunu inge ne varadha
Ah thara na mariyadha
Mariyadhi tharalana ammale yenta ne varadha
Pulingo serila nekiro veirila
Nekama oduro epo yalla
Sathima cholura rombvei dhardhula
Muna ne nenaka yosika uduve
Paatu nu vandhaka veidiko uduve
Veidika parru ne orama nilinu
Nadule vandhaka nakinu poiduve
Pattu ku ille na moolo ku aduva
Vakanu bandha la kamikadha
Yenta la varadha vakaru mulila
Ola ne otunu chuthadha urula
Olungo paninu inge la valadha
Woah
Mama peru inge uru pura para parako
Gang'u yendhu sendhu scene inge kala kalako
Brown paya edhu southside kalacharo yo
Enna mari keta vera mari chollu oodu
China paya nenchi podadha yeadola
Chinudhu landhu ahh syke ana manda tha
Aadi maso mari kura da nanu inge
Aadi maso vandha aadu yalla gavu inge
Arama indhuko showngo la udadha
Scene ne potaka panva na bekar
Kadaka tha na paru
Therupaya rockstar'u
Theru paya theru mela nenukunu kalakinu
Kara maine jo bhi beta
Mere pe bharosa
Maine rakha tabhi beta
Mere ganone bharosa
Mai to haara baar baar
Fir bhi kara baar baar
Mujhe pata beta jeetunga mai
Kisi ko naa kosa
Inhe pata bhi nai
Kaise kare jaise karu mai
Musical hu mai
Miracle hu mai
Mera kal hu mai
Teda jo bhi banega be
Seedha karu mai
Chava bantai bandiyo ko fida karu mei
Kaise kare aise kaata kuti jaise maine kara
Mai toh matha pacchi bhi na paalu
Kisi ka mai khaa lu kisike mai favourite rapper
Mai hu aisa rapper
Mai kamake batara
Ki sirf gaane dalne se paise kamata hai kaise rapper
Mai toh waise yaha par baitha bore hora bhai
Bantai jaha par hai waha par shor hora bhai
Bohat hua bhai log aa gayele bhai log
Bhai log hai tabhi to haan gaane me dialouge hai
Ghayal ho gaye jo mere baare kare buraai
Bkp show pe barricade de tod aaye
Andar kyunki bhai ka bajra gaana
Kachra gaana daale sale kar dikhana
Meri tarah jo bhi gaana dala saara banger
Backhane bajta tu bachkani mendak
Bass ka nai kisi ke bhi baksha nai mai toh
Maska ni maske se maska hai ye flow
Bas kar na diss mujhe deta fame inhe par
Malum na samne koi bachta nai bhencho
Haan leke ghusu poora jitna bhi andar hai bahrela skill
Koi bhi ilaake se aane de maalum na antophill
Mera flow bole globally
Vocally wo gully
Jo gully tu kabhi 2 kalli
Brocolli lene ko jaane ka
Ye teri naukari
Chhokri wokri dediyeli chowkadi
Chopper hai baa
Rocket hai baa
Flow mera topper hai baa
Jo karu mai usme
Kya kare baa
Kon karega
Scene poora mara pada
Saare bhare joker hai baa
The Indian Hip Hop Cypher Lyrics PDF Download
Print PDF
PDF Download
| Song Name | Singers |
| --- | --- |
| Good Boy | Emiway Bantai |
| Haath Dhona Cool Hai | Emiway Bantai |
| Still Number 1 | Emiway Bantai |
| The Indian Hip Hop Cypher | Emiway Bantai, Memax, Shez, Young Galib, Flowbo, Hitzone, Hellac, Jaxk, Minta |
| Guess | Emiway Bantai |
| Baby | Emiway Bantai, Young Galib |
| Lobotomy | Emiway Bantai, Lazarus |
| Thanks To My Haters | Emiway Bantai |
| Kaha Par Hun | Emiway Bantai |
| Ruthless | Emiway Bantai, Memax, Jaxk |