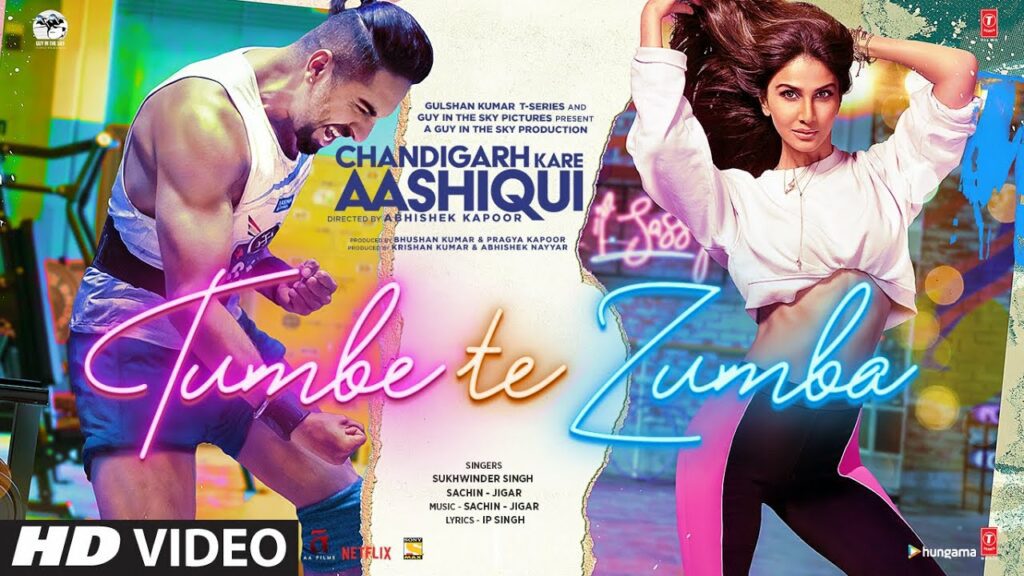 LYRICS OF TUMBE TE ZUMBA IN HINDI: 'तुम्बे ते ज़ुम्बा' The song is sung by Sukhwinder Singh and Sachin-Jigar from Hindi film Chandigarh Kare Aashiqui, directed by Abhishek Kapoor. The film stars Ayushmann Khurrana and Vaani Kapoor in lead role. "TUMBE TE ZUMBA" is a Dance song, composed by Sachin-Jigar, with lyrics written by IP Singh.
Tumbe Te Zumba Song Lyrics
Do kudiyan saddi gali ch rehndi aa
Ek patli ek bhari
Bhari taan te byah ho gaya
Patli lage pyari
Ke daal mein namak bhul gayi
Ke daal mein namak bhul gayi
Jad khinch ke haaye
Jad khinch ke chade ne ankh maari
Hoye patiale ludhiane
Bhai saare puchde kaun aa
Laskaare tu maare
Saare tote udd gaye sohniya
Surfe da bomb lagdi
Adserind da song lagdi
Jadon tumbe te zumba kardi
Ho tumbe te zumba kardi
Ho sundar mundar ye
Kehda kaun vicharan
Dullan shakti wala
Bule che team aayi
Shero shakkar bhai
Kudi te shaalo kaata
Saanu kaun samete
Ho cha cha churi kutte ho
Prem beat te teri saare
Dhum lack lack nach rahe
Salary hafte bhar ki
Minton vich karch rahe
Vekh ke tainu ton sab
Rotti khana bhul gaye
Teri duty karke sab
Chuti jaana bhul gaye
Ha enna bling kardi
Audi di ring lagdi
Jadon tumbe te tumbe te
tumbe te zumba kardi
Ho tumbe te zumba kardi
Tumbe te zumba kardi.
तुम्बे ते ज़ुम्बा Lyrics in Hindi
दो कुड़ियां साड्डी गली च रेहँदी आ
एक पतली एक भारी
भारी तान ते ब्याह हो गया
पतली लगे प्यारी
के दाल में नमक भूल गयी
के दाल में नमक भूल गयी
जद खिंच के हाय
जद खिंच के छड़े ने आंख मारी
होये पटिआले लुधिआने
भाई सारे पुछदे कौन आ
लस्कारे तू मारे
सारे तोते उड़ गये सोहनिया
सुर्फ़े दा बॉम्ब लगदी
ऐडसेरिंड दा सॉन्ग लगदी
जदों तुम्बे ते ज़ुम्बा करदी
हो तुम्बे ते ज़ुम्बा करदी
हो सुंदर मुंदर ये
केहड़ा कौन विचारां
डुल्लां शक्ति वाला
बुले चे टीम आयी
bharatlyrics.com
शेरो शक्कर भाई
कुड़ी ते शालो काटा
सानू कौन समेटे
हो च च चुरी कुट्टे हो
प्रेम बीट ते तेरी सारे
धूम लक लक नच रहे
सैलरी हफ्ते भर की
मिनटों विच खर्च रहे
वेख के तैनू तों सब
रोटी खाना भूल गये
तेरी ड्यूटी करके सब
छूटी जाना भूल गये
हा एन्ना ब्लिंग करदी
ऑडी दी रिंग लगदी
जदों तुम्बे ते तुम्बे ते
तुम्बे ते ज़ुम्बा करदी
हो तुम्बे ते ज़ुम्बा करदी
तुम्बे ते ज़ुम्बा करदी.
Tumbe Te Zumba Lyrics PDF Download
Print PDF
PDF Download