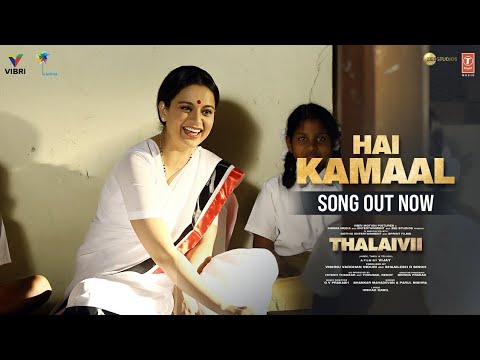 है कमाल | HAI KAMAAL LYRICS IN HINDI: The song is recorded by Shankar Mahadevan and Parul Mishra from Hindi film Thalaivii, directed by A. L. Vijay. The film stars Kangana Ranaut and Arvind Swamy in lead role. The music of "HAI KAMAAL" song is composed by G. V. Prakash Kumar, while the lyrics are penned by Irshad Kamil.
Hai Kamaal Song Lyrics
Naye raston par
Nayi manzilein hain
Naye log saare
Nayi mehfilein hain
Jahan pyar dekar
Mile pyar humko
Wahi humsafar hain
Wahi kaafile hain
Hai kamaal aise hi chalna
Hai kamaal waqt badalna
Hai kamaal subah ka hona
Hai kamaal raat ka dhalna
Lekar chala hai tumhein waqt jahan
Is pal wahan tera sab hai
Karwat samay ne li hai aaj agar
Iska koyi matlab hai
Tere hisse ka hai jo
Tune hi karna hai woh
Hai kamaal raahon ka milna
Hai kamaal milke chalna
Hai kamaal waqt badalna
bharatlyrics.com
Ho ho ho.
है कमाल Lyrics in Hindi
नये रास्तों पर
नयी मंज़िलें हैं
नये लोग सारे
नयी मेहफ़िलें हैं
भारतलिरिक्स.कॉम
जहाँ प्यार देकर
मिले प्यार हमको
वही हमसफ़र हैं
वही काफिले हैं
है कमाल ऐसे ही चलना
है कमाल वक़्त बदलना
है कमाल सुबह का होना
है कमाल रात का ढलना
लेकर चला है तुम्हें वक़्त जहाँ
इस पल वहां तेरा सब है
करवट समय ने ली है आज अगर
इसका कोई मतलब है
तेरे हिस्से का है जो
तूने ही करना है वो
है कमाल राहों का मिलना
है कमाल मिलके चलना
है कमाल वक़्त बदलना
हो हो हो.
Hai Kamaal Lyrics PDF Download
Print PDF
PDF Download