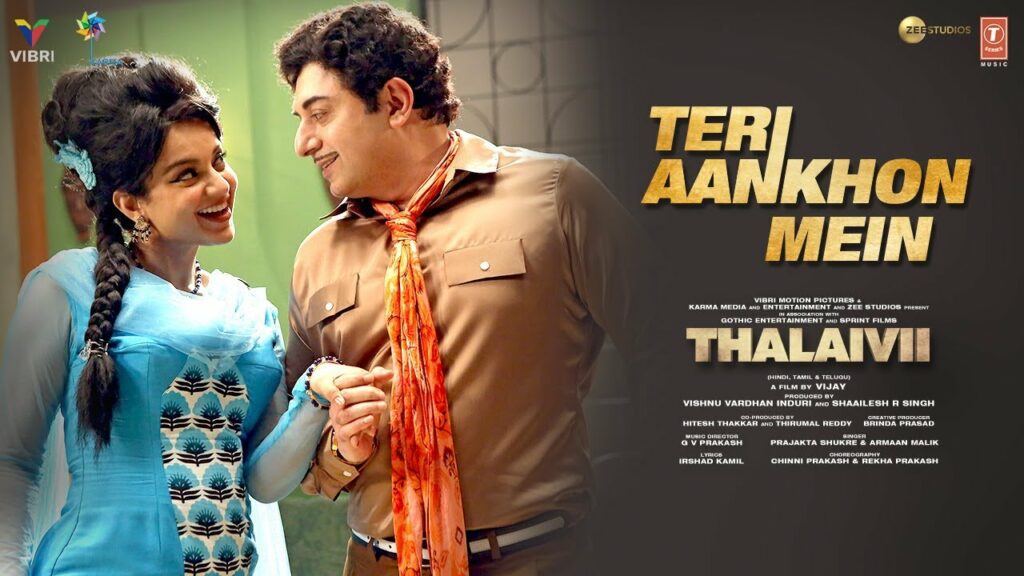 TERI AANKHON MEIN LYRICS IN HINDI: 'तेरी आँखों में' The song is sung by Armaan Malik and Prajakta Shukre from the soundtrack album for the film Thalaivii, directed by A. L. Vijay, starring Kangana Ranaut and Arvind Swamy. "TERI AANKHON MEIN" is a Romantic song, composed by G. V. Prakash Kumar, with lyrics written by Irshad Kamil.
Teri Aankhon Mein Song Lyrics
Teri aankhon mein mein kya hai
Meri aankhon mein hain sapna
Tere sapne mein aaye kaun
Mere sapne mein hain apna
Apna hai jo kya main hoon woh
Na ji na tu nahi
Socho kabhi thoda mere baare
Teri tarah piche kayi bechare
Auron sa main bilkul nahi yaara
Jaanu tumhein saare ka main saara
bharatlyrics.com
Aisa bhala karti ho kyun
Maine tera hi toh hona hain
Khali abhi dil ka mere
Dekho koyi bhi na kona hain
Palkon pe hi rakh lo kahin
Na ji na tu nahi.
तेरी आँखों में Lyrics in Hindi
तेरी आँखों में क्या है
मेरी आँखों में हैं सपना
तेरे सपने में आये कौन
मेरे सपने में हैं अपना
अपना है जो क्या मैं हूँ वो
ना जी ना तू नहीं
भारतलिरिक्स.कॉम
सोचो कभी थोड़ा मेरे बारे
तेरी तरह पीछे कई बेचारे
औरों सा मैं बिलकुल नहीं यारा
जानू तुम्हें सारे का मैं सारा
ऐसा भला करती हो क्यूँ
मैंने तेरा ही तो होना हैं
खली अभी दिल का मेरे
देखो कोई भी ना कोना हैं
पलकों पे ही रख लो कहीं
ना जी ना तू नहीं.
Teri Aankhon Mein Lyrics PDF Download
Print PDF
PDF Download