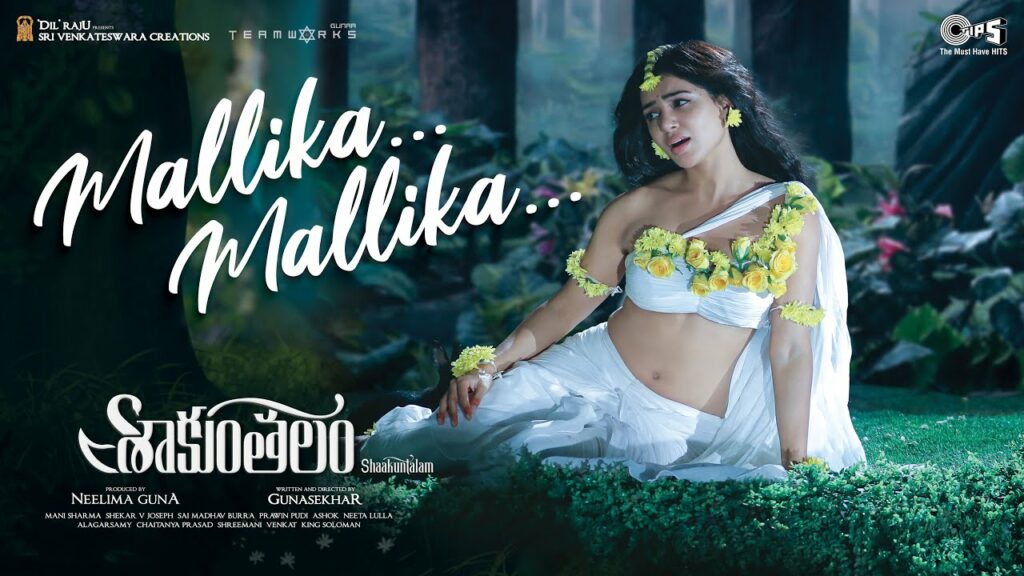 MALLIKA MALLIKA SONG LYRICS: The song is sung by Ramya Behara from the Telugu film Shaakuntalam, directed by Gunasekhar. The film stars Samantha and Dev Mohan in the lead role. The music of "Mallika Mallika" song is composed by Mani Sharma, while the lyrics are penned by Prashant Ingole.
Mallika Mallika Song Lyrics
Mallika mallika… Malathi mallika
Choodava choodavaa… Yedi naa elika
Mallika mallika… Malathi mallika
Choodava choodavaa… Yedi naa elika
Hamsika hamsika jaagune seyakaa
Poyiraa poyira… Rajutho raa ika
Athaniko kaanuka… Eeyanaa nenika
Valapuke nedoka veduka kaagaa
Mahaa neelaveni pooche poola aamani
Raaje chentha cheraa… Raajyaannelu maa rani
Munula ghanula mana vana seema
Maruni sharamu paramaa
Madhura sudhala sumamaa aa
Manasu nilupa taramaa
Swapnika chaitrika
Naa priya nethrika
Choodavaa choodavaa
Edi naa elikaa
Saagumaa meghama, meghamaa
Saaguma meghama… Swamy'ne cherumaa
Vaanale veenalai maa kathe paadumaa
Nee cheli nechheli choolu daalchindhani
Sheeghrame rammani maargame choopuma
Mila mila merisele saradaakaashame
Vela vela vennelai vege maa preme
Taara toranaalai teerche ningi daarule
Nele paalapunthai nimpe prema deepaale
Marula virula rasajhari lonaa
Manasu tadise lalanaa
Amala kamala nayanaa
Telise hrudaya tapanaa
Aakulo aakunai aashrama vaasivai
Aashagaa choodanaa aathani raakakai
O cheli o cheli enduke ee chali
Bhoothalam naa madhi… Sheethalam ayinadhi
Manchule munchina entha vedhinchinaa
Aathani amshane vechhaga daachani
Sisirame aashalaa aakule raalchina
Chigurale veyagaa chaithrame kaanaa
Hemanthaalu elaa… Seemanthaala velalo
Chindhe yelaa baala vaasanthaale neelona
Nelalu gadachinavi velabaala
Kadhali kadali alalaa
Amara vimala sumamaa
Suguna manini kanumaa
bharatlyrics.com
Kannule vechele
Kaayale kaachele
Aashagaa choodagaa
Aathani raakakai.
Mallika Mallika Lyrics PDF Download
Print PDF
PDF Download