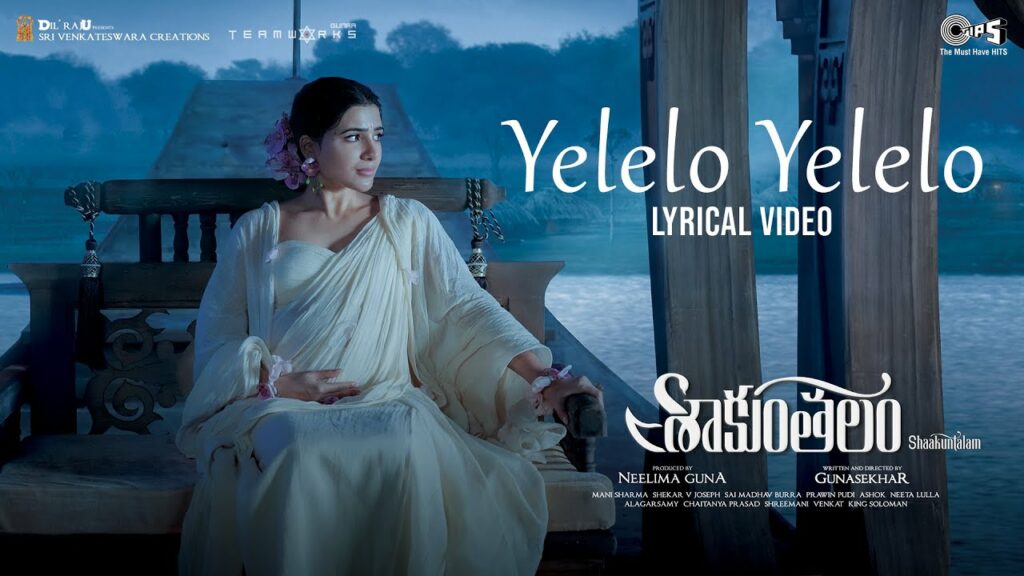 LYRICS OF YELELO YELELO: The song "Yelelo Yelelo" is sung by Anurag Kulkarni from Samantha and Dev Mohan starrer Telugu film Shaakuntalam, directed by Gunasekhar. YELELO YELELO is a Happy song, composed by Mani Sharma, with lyrics written by Chaitanya Prasad.
Yelelo Yelelo Song Lyrics
Yelelo yelelo yelo yaalaa
Yetilona saage naavaa
Yelelo yelelo yelo yaalaa
Dooraalevo chere thovaa
Seere kattukochhindhe sandamama
Sogasaina sinnadaanilaa, oo oo oo daayi
Seere kattukochhindhe sandamama
Sogasaina sinnadaanilaa
Saare pattukochhindhe sandamaama
Chelikaani goode seragaa
bharatlyrics.com
Amme thaanu ayye vela
Andhaale sindhe baalaa
Tana maaraajainode pooje sesedo
Muni gaaraalammaa seyye pattedaa
Tana penaalannee thaane ayyedaa
Yelelo yelelo yelo yaalaa
Orakanta soosinaava
Yelelo yelelo yelo yaalaa
Dhora siggai navvinaava
Raaje taanai raajyaleletodu
Ninu soodangaane bantai untadu
Rani laaga ninne susetodu
Nuvu serangaane daasudoutadu
Melaalenno techhi… Tanu dharuve vesee
Menaalenno techhi… Ninu athane mosi
Poole jalli deveralle ooregitthade
Ilalone unna menaka nuvvamma
Enaleni goppa kaanuka nuvvamma
Yelelo yelelo yelo yaalaa
Santoshanga saage naava
Uyyaalai jampalai ooge naava
Oohallona thelinaavaa
Tupaanaina gipaanaina raani
Ragileti aashaa deepaannarpenaa
Kopaalaina shaapalaina raani
Edhureedhe keratannaapenaa
Eedhemaina gaani
Edha nadhi aagenaa
Maaneyannaa gaani
Manasanagaarenaa
Yere inki neere bonki daare dibbainaa
Dari seraalamma saage naavammaa
Prathi roju kottha kaanpe soodamma
Yelelo yelelo yelo yaalaa
Teeralenno daate naava
Yelelo yelelo yelo yaalaa
Sonta goode serinaava.
Yelelo Yelelo Lyrics PDF Download
Print PDF
PDF Download