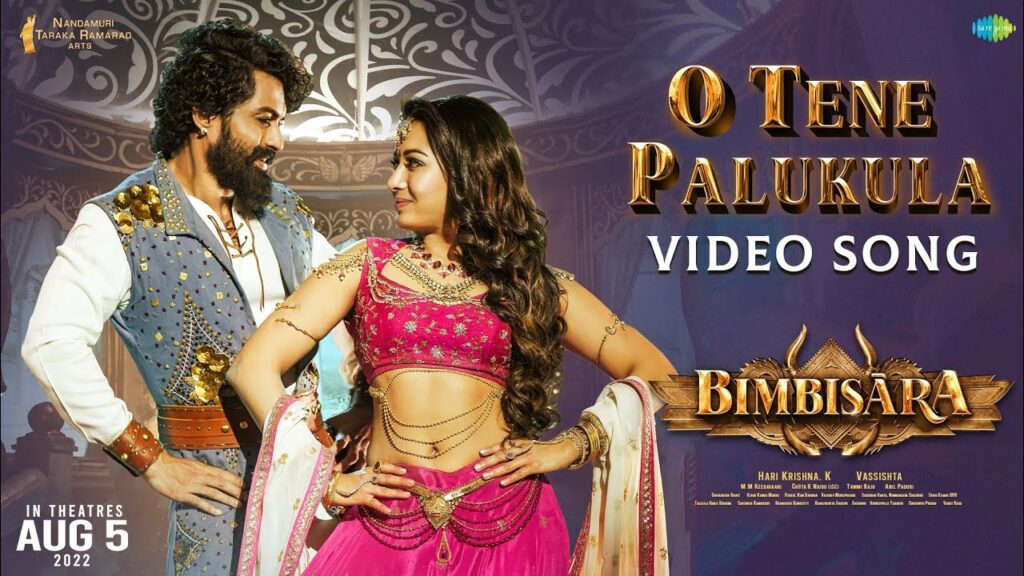 O TENE PALUKULA SONG LYRICS: The song is sung by Hymath Mohammed and Satya Yamini from the soundtrack album for the Telugu film Bimbisara, directed by Mallidi Vashist, starring Nandamuri Kalyan Ram, Catherine Tresa, Samyuktha Menon and Warina Hussain. "O TENE PALUKULA" song was composed by Varikuppala Yadagiri, with lyrics written by Varikuppala Yadagiri.
O Tene Palukula Song Lyrics
O tene palukula ammaayi
Nee teega nadumulo sannaayi
Laaginde
bharatlyrics.com
O kora meesapu abbaayi
Nee ora choopula lallaayi
Baagundoy
Nee chempala nunupu buggala erupu
Ooristunnaay
Nee maatala virupu aatala odupu
Gunde pattukoni aadistunnaay
Nee venta vellamani thittestunnaay
Nee janta kattamani kottestunnaay
Nee poru ishtamani navvistunnaay
Nee daari pattamani duvvestunnaay
Goda chaatu nee donga choopulu
Manta petti pothunnaay
Pattu parpulu malle paanpulu
Nachhakunda chestunnaay
Moothi virpulu theepi tippalu
Rechhagotti choostunnaay
Soku katthulu haayi noppulu
Nokki nokki navvuthunnaay
Nee thempari thalapulu moham thalupulu
Thiyyi thiyyamani baadestunnaay
Nee venta vellamani thittestunnaay
Nee janta kattamani kottesthunnay
Nee poru ishtamani navvisthunnaay
Nee daari pattamani duvvesthunnaay
O tene palukulaa ammaayi
Nee theega nadumulo sannaayi
Laaginde.
O Tene Palukula Lyrics PDF Download
Print PDF
PDF Download