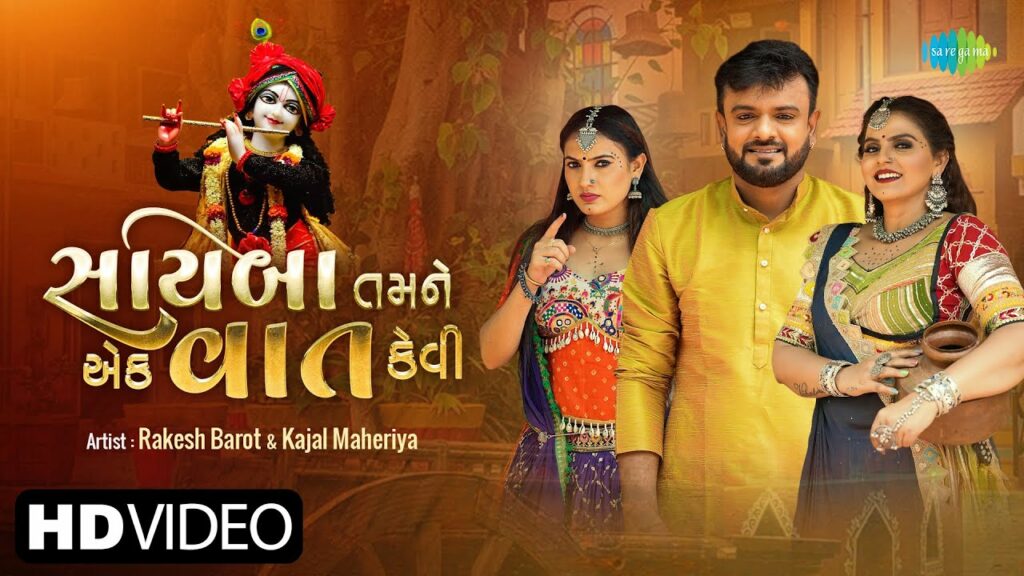 SAYABA TAMANE EK VAAT KEVI LYRICS IN GUJARATI: સાયબા તમને એક વાત કેવી, The song is sung by Rakesh Barot and Kajal Maheriya and released by Saregama Gujarati label. "SAYABA TAMANE EK VAAT KEVI" is a Gujarati Festivals song, composed by Rahul Nadiya and Ravi Nagar, with lyrics written by Chandu Raval. The music video of this song is picturised on Rakesh Barot.
Sayaba Tamane Ek Vaat Kevi Song Lyrics
He sayaba sobhado to tamane ek vaat kevi
He bolo bolo ne sajan su vaat kevi
He ramava jaavu konudo evi raja levi
He na na maiyariye java malase nahi
Tame aaya so hamana jai
Hedo hedo ne dudhani bhaiso dovi
Ho sayaba sobhado to tamane ek vaat kevi
Ho gome re gom thi mari gothero re aavase
Gom na godare dhol konuda na vaagse
Ho badhi vaat sachi pan amane kon sachavse
Tamare to thik dada amara cham jaase
He ame rokashu ek be daado
Mono mono sayaba ji haa pado
Maare maiyar jaava ni raja levi
He he mane khabar hati shu tare vaat kevi
Ho javani na nathi pan amane nathi favatu
Tamara rodhya vagar amne nathi bhavatu
Hoho goda mara sayaba tame godpan melo ne
Veda viti jaay raja prem thi aalo ne
He aavu tamari haro haar hu
Pachhi reje be na char dada tu
Tame konudo rang bhari ne rami re lejo
Ho sayaba hedo have ghani nathi vaar karvi
Lo hedo hedo ne biji nathi vaat karvi.
સાયબા તમને એક વાત કેવી Lyrics in Gujarati
હે સાયબા સોભળો તો તમને એક વાત કેવી
હે બોલો બોલો ને સાજણ સુ વાત કેવી
હે રમવા જાવું કોનુંડો એવી રજા લેવી
હે ના ના મૈયારીએ જાવા મળશે નહિ
તમે આયા સો હમણાં જઈ
હેંડો હેંડો ને દૂધણી ભૈસો દોવી
હો સાયબા સોભળો તો તમને એક વાત કેવી
હો ગોમે રે ગોમ થી મારી ગોઠેણો રે આવશે
ગોમ ના ગોંદરે ઢોલ કોનૂડા ના વાગશે
હો બધી વાત સાચી પણ અમને કોણ સાચવશે
તમારે તો ઠીક દાડા અમારા ચમ જાશે
bharatlyrics.com
હે અમે રોકાશું એક બે દાડો
મોનો મોનો સાયબા જી હા પાડો
મારે મૈયર જાવ ની રજા લેવી
હે હે મને ખબર હતી શું તારે વાત કેવી
હો જવાની ના નથી પણ અમને નથી ફાવતું
તમારા રોધ્યાં વગર અમને નથી ભાવતું
હોહો ગોડા મારા સાયબા તમે ગોડપણ મેલો ને
વેળા વીતી જાય રજા પ્રેમ થી આલો ને
હે આવું તમારી હારો હાર હું
પછી રેજે બે ના ચાર દાડા તું
તમે કોનુંડો રંગ ભરી ને રમી રે લેજો
હો સાયબા હેંડો હવે ઘણી નથી વાર કરવી
લો હેંડો હેંડો ને બીજી નથી વાત કરવી.
Sayaba Tamane Ek Vaat Kevi Lyrics PDF Download
Print PDF
PDF Download