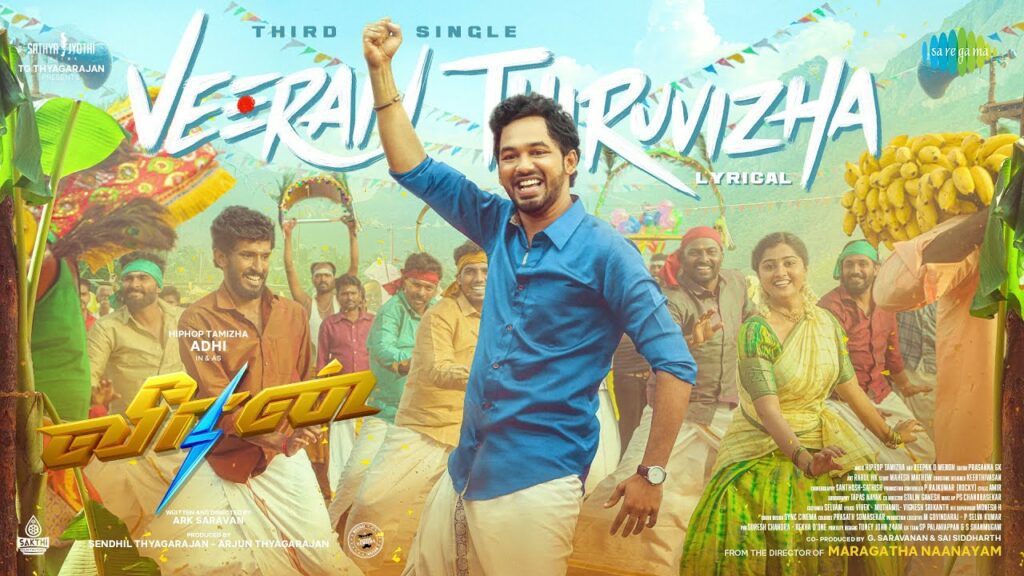 LYRICS OF VEERAN THIRUVIZHA: The song is recorded by Muthusirpi, Chinnaponnu, Pranavam Sasi and Hiphop Tamizha from a Tamil-language film Veeran, directed by ARK Saravan. The film stars Hip-hop Tamizha, Athira Raj, Munish kanth, Kali venkat and Sassi Selvaraj in the lead role. "Veeran Thiruvizha" is a Tamil Masti song, composed by Hiphop Tamizha, with lyrics written by Muthamil.
Veeran Thiruvizha Song Lyrics
Kumbam vilakki vachi guru poosa aguthunu
Karakam vilakki vachi gana poosa aguthunu
Unaku maanga illaneer antha manam pudikum endru solli
Unaku Thenka Illaneer thevuru adikum endru solli
Unaku kumbala illaneer kondu vanthom poosaiyinu
Intha poosa mugam paaka anga purapattu nee ellumbu!!
bharatlyrics.com
Nei villaku ethi vachi kumbuduram veeraney
Nellu mani eduthu vanthom ethukanum veeraney
Nethu kaaya odaichu vachom unakena veeraney
Mukkaniya parichu vanthu…
Sami…Mulusa padaiyalittom, unaku kattupattu…
Sami… Usura kuduthu nippom…
Sami… Uthira thilakamittu…
Arupadai veedu Konda thirumurgan avan
Thalapathiyaam veeran ivan…
Kuraikalai odi vanthu theerkindaravan,
Alamaram pola nindru kaakum ivan…
Aah… Veeraney… Veeraney…
Uchi mugatha thala katti osanthu nikkum maveeraney…
Pancham paranthu bayanthodum,
Avan paarvai patta pothum maganae…
Vizhi kaathu, Mozhi kaathu, Vazhi kodupaa…
Irulana ulaguku oli kudupaa..
Santhanatha nee poosi mugam siripa…
Sankadatha thoosiyaaki Neruperippa…
Thikku thesai engum yammakaga thimiri nirkkum maveeraney…
Suthi muraikkum padaikethiraa… Puravi eri nee va sooraney…
Sami… Nei vilakku ethi vachu…
Sami… Nellumani eduthu vanthom…
Sami… Nethukaaya odachu vachom…
Sami… Mukkaniya parichu vanthu…
Aah Veeraney… Veeraney
Veeraney… Maa… Veeraney
Odi vaa… Thedi vaa… Aadi vaa…
Nee Veeran aa…
Odi vaa… Thedi vaa… Aadi vaa…
Nee Veeranaa…
Veerathi Veeraney… Sooraathi Sooraney…
Ennai kappavaney… Vennai theerpavaney…
Veerathi Veeraney… Sooraathi Sooraney…
Ennai kappavaney… Vennai theerpavaney…
Veeran Thiruvizha Lyrics PDF Download
Print PDF
PDF Download