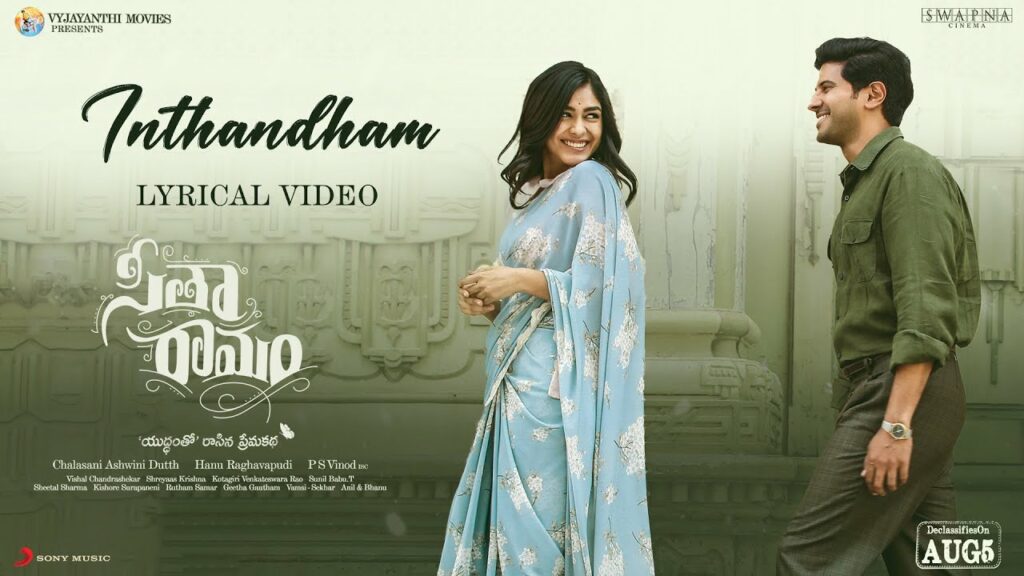 LYRICS OF INTHANDHAM: The song is recorded by S. P. B. Charan from a Telugu-language film Sita Ramam, directed by Hanu Ragavapudi. The film stars Dulquer Salman, Mrunal Thakur, Rashmika and Sumanth in the lead role. "Inthandham" is a Love song, composed by Vishal Chandrasekhar, with lyrics written by Krishna Kanth.
Inthandham Song Lyrics
Inthandham dhaari mallindhaa
Bhoomipaike cherukunnadhaa
Lekunte chekki untaara
Achchu neelaa shilpa sampadaa
Jagatthu choodani
Mahatthu needheley
Nee navvu thaake
Tharinche thapassilaa
Nisheedhu lanni
Thalonche thushaaraanivaa
Needhey veloo thaaki
Nele inchu paiki
Thele vintha vaikhari
Veede veelu leni
Edho maaya loki
Laage pilla themparee
Nadhilaa dhooketi
Nee paita sahaja gunaam
Pulilaa dhaagundi
Vetaade paduchudhanam
Daasohamandhinaa prapanchame
Adhantha nee dhaye
Chilake koka qatti
Ninne chuttumutti
Seethaakokalaayenaa
Ville ekkupetti
Mello thaali katti
Maralaa raamudavvanaa
Andham nee inta
Chesthondhaa oodigame
Yuddham chaatindhi
Nee paina ee jagame
bharatlyrics.com
Dhasoyamadhi naa prapanchame
Adhantha nee dhaye.
Inthandham Lyrics PDF Download
Print PDF
PDF Download