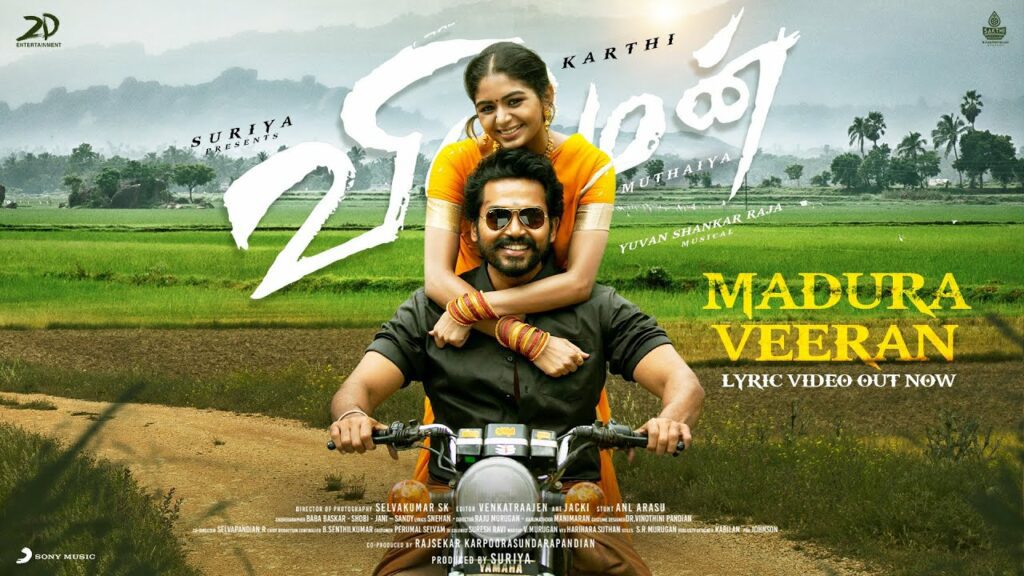 MADURA VEERAN SONG LYRICS: Madura Veeran is a Tamil song from the film Viruman starring Aditi Shankar, Rajkiran, Prakashraj, Soori, Karunas and Vadivukarasi, directed by Muthaiah. "MADURA VEERAN" song was composed by Yuvan Shankar Raja and sung by Yuvan Shankar Raja and Aditi Shankar, with lyrics written by Raju Murugan.
Madura Veeran Song Lyrics
Hey madura veeran azhagula
Maattu kombu thimirula
Paavi nenji sikkikikuche
Vaadi en karuppatti
Paartha paththum theepetti
Maaman nenju paththikiruche
Maarula yeerida idam tha
Meesaiya neevura varam tha
Uduthura vettiya pola
Ottikittu vaara poorenda
bharatlyrics.com
Un kooda varenda
Un kooda varenda
Theani moththam paakka thaan
Thangame unnai thookki thaan
Moththa theana thaan
Naan mondu oothava
Oore kannu poda thaan
Maaman unnai koodi thaan
Pulla nooru thaan
Naan peththu podava
Kodai saanjene komban naan thaane
Kudamaakki karuvachi
Oruvaatti ennai thookki pooyendi
Un kooda vaarendi
Un kooda vaarendi
Maaman kannu sooriye
Eerakula yeriye
Ethama ennai kuththi kollathe
Aantha muzhikariye
Aruva mana maariye
Sugama ennai vetti thallathe
Seelai mundhi oorama
Aatha thantha vaasama
Ulla kaalam thaan
Unnai nenjil thaanguven
Maaman nenju mela thaan
Aattukutty pola thaan
Niththam thoonga thaan
Paththu jenmam vanguven
Adi pechiye ennai saachiye
Ennai maathi pudhusaaki
Usurakki un kaiyil thaarendi
Un kooda vaarendi
Naan kooda vaarendi
Un kooda vaarendi
Naan kooda vaarendi.
Madura Veeran Lyrics PDF Download
Print PDF
PDF Download