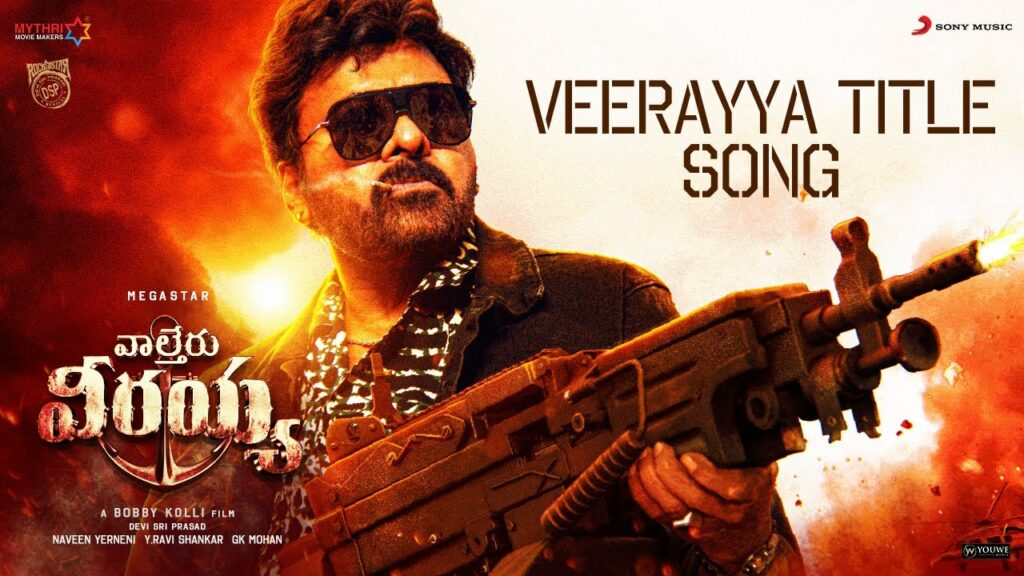 LYRICS OF VEERAYYA (TITLE TRACK): The song is recorded by Anurag Kulkarni and Pavithra Chari from a Telugu-language film Waltair Veerayya, directed by K. S. Ravindra. The film stars Chiranjeevi, Ravi Teja, Shruti Haasan and Catherine Tresa in the lead role. "Veerayya (Title Track)" is composed by Devi Sri Prasad, with lyrics written by Chandrabose.
Veerayya (Title Track) Song Lyrics
Bhaga bhaga bhagabhaga
Bhaga bhaga bhaga bhaga mande
Jaga jagajaga jaga chedu jagaanni chendaade
Dhaga dhaga dhagadhaga dhaga jwalinche sooreede
Agaadha gaadhala anantha lothula
Samudra sodarude veede
Vinaashakaarula smashaanamavuthaade, hey
Thoofaanu anchuna thapassu chese
Vasishtudante adhi veede
Thalalni teese vishishtude veede, heyy
Veerayya veerayya…
Veerayya veerayya ha ha ha
Mruga mrugamruga mruga mruga mrugaanni vetaade
Paga paga pagapaga prathidhwaniche shathaagniraa veede
Bhuga bhugabhuga bhuga bhuga vishaanni mingaade
Tega tega tega tega teginchi vachhe trishoolamayyaade
Ekaaekaa eki yamundu raase
Kavithwamante adhi veede
Navashakaana errani kapothame veede, hey
Tharaalu choodani yugaalu choodani
Samardha shikharam adhi veede
Thanokka thaane thaletthi choosthaade, hey
Veerayya veerayya
Veerayya veerayya
Dam dam dama dama agni varshamai
Adugulesina asaadhyude
Bham bham bada bada mruthyu jananamai
Munchukochhina ananthude
Ram ram raga raga shourya sandhramai
Aakraminchina amarthyude
Dham dham dhaba dhaba yuddha shakatamai
Egiri dhookina abedhyude
Tham tham thaka thaka thimira nesthamai
Aavarinchina thrinethrude
Gam gam gada gada marana shankamai
Maaru mrogina prashaanthude
bharatlyrics.com
Veerayya veerayya
Veerayya veerayya.
Veerayya (Title Track) Lyrics PDF Download
Print PDF
PDF Download