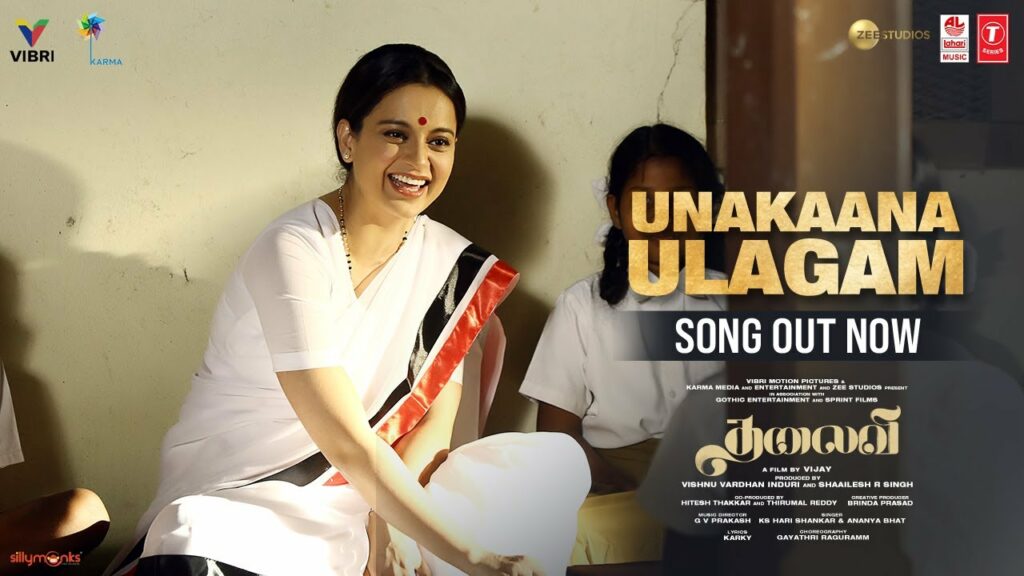 'உனக்கான உலகம்' | UNAKAANA ULAGAM SONG LYRICS IN TAMIL: The song "Unakaana Ulagam" is sung by Ananya Bhat and Hari Shankar from Kangana Ranaut, Arvind Swamy and Bhagyashree starrer Tamil film Thalaivii, directed by A.L. Vijay. UNAKAANA ULAGAM song was composed by G. V. Prakash Kumar, with lyrics written by Madhan Karky.
Unakaana Ulagam Song Lyrics
Unakkaana ulagam
Udhikintra tharunam
Imaikkintra nodiyil
Niram maarum muzhuthum
Unakkaana kanavu
Ezhakkintra pozhuthu
Pirar kaanum kanavu
Avai yaavum unadhu
Idhu kaalam ezhuthidum kanakku
Idhai maatra thudippathu etharkku
Avan kaattum vazhi undhan kizhakku
Sila kodi idhayam un ilakku
Idhu thaan idhu thaan
Endhan thotram entre
Theeyum neerum sollathentrum
Idhu thaan idhu thaan
Endhan paathai entre
Vaanum kaatrum sellaathenkum
bharatlyrics.com
Thiruppangal nigazhum
Irudhayam negizhum
Sila aayiram siragugal soodidadi
Pudhu vaanil yeridadi
Pudhidhaaga maaridadi.
உனக்கான உலகம் Lyrics in Tamil
உனக்கான உலகம்
உதிக்கின்ற தருணம்
இமைக்கின்ற நொடியில்
நிறம் மாறும் முழுதும்
உனக்கான கனவு
இழக்கின்ற பொழுது
பிறர் காணும் கனவு
அவை யாவும் உனது
பரத்கிரிக்.காம்
இது காலம் எழுதிடும் கணக்கு
இதை மாற்ற துடிப்பது எதற்கு
அவன் காட்டும் வழி உந்தன் கிழக்கு
சில கோடி இதயம் உன் இலக்கு
இது தான் இது தான்
எந்தன் தோற்றம் என்றே
தீயும் நீரும் சொல்லாதென்றும்
இது தான் இது தான்
எந்தன் பாதை என்றே
வானும் காற்றும் செல்லாதெங்கும்
திருப்பங்கள் நிகழும்
இருதயம் நெகிழும்
சில ஆயிரம் சிறகுகள் சூடிடடி
புது வானில் ஏறிடடி
புதிதாக மாறிடடி.
Unakaana Ulagam Lyrics PDF Download
Print PDF
PDF Download