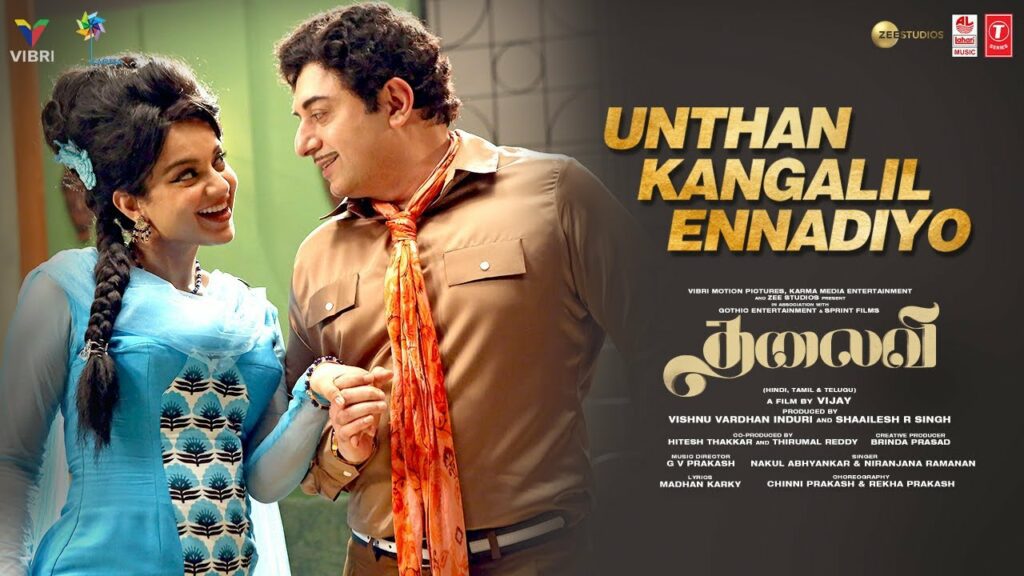 UNTHAN KANGALIL ENNADIYO SONG LYRICS IN TAMIL: Unthan Kangalil Ennadiyo (உந்தன் கண்களில் என்னடியோ) is a Tamil song from the film Thalaivii, starring Kangana Ranaut, Arvind Swamy and Bhagyashree, directed by A.L. Vijay. "UNTHAN KANGALIL ENNADIYO" song was composed by G. V. Prakash Kumar and sung by Nakul Abhyankar and Niranjana Ramanan, with lyrics written by Madhan Karky.
Unthan Kangalil Ennadiyo Song Lyrics
Unthan kangalil ennadiyo
Minnal minnidum or kanavo
Vanna kanavil vanthathu yaar
Yedho chinnavar enbavaro
Kannam rendil chinnam enna
Unthan ennavar thanthathuvo
Konjam konjam kenjum nenjai paaru
Unmai pole aangal undu nooru
Aayirathil naan oruvan enbar
Vai irunthal yaar ethavum solvar
Udal vida ullam thoda
Unnodu ondradum mandrada
Pakkam vara vetkam thara
Nee enthan kovamthai ondradu
bharatlyrics.com
Un vizhiyil naan irunthal
Verenna vendumadi.
உந்தன் கண்களில் என்னடியோ Lyrics in Tamil
உந்தன் கண்களில் என்னடியோ
மின்னல் மின்னிடும் ஓர் கனவோ
வண்ண கனவில் வந்தது யார்
ஏதோ சின்னவர் என்பவரோ
பரத்கிரிக்.காம்
கன்னம் ரெண்டில் சின்னம் என்ன
உந்தன் என்னவர் தந்ததுவோ
கொஞ்சம் கொஞ்சம் கெஞ்சும் நெஞ்சை பாரு
உம்மை போலே ஆண்கள் உண்டு நூறு
ஆயிரத்தில் நான் ஒருவன் என்பார்
வாய் இருந்தால் யார் எதுவும் சொல்வார்
உடல் விட உள்ளம் தொட
உன்னோடு ஒன்றாடும் மன்றாட
பக்கம் வர வெட்கம் வர
நீர் எந்தன் கோவத்தை ஒன்றாட
உன் விழியில் நான் இருந்தால்
வேற என்ன வேண்டுமடி.
Unthan Kangalil Ennadiyo Lyrics PDF Download
Print PDF
PDF Download